The cultural compendium of Cambridge colleges
Isobel Bickersteth gives her highlights of the art collections of Murray Edwards, Jesus and Downing
Although Cambridge is a city full of culture, it can often be tempting to overlook the art found within the colleges themselves.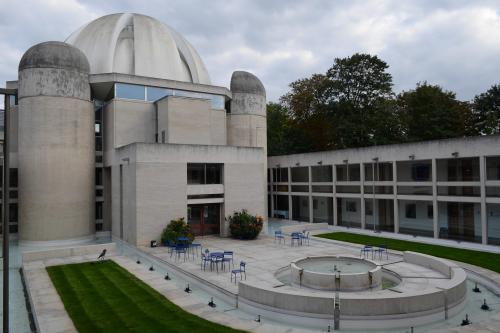 Venture to Murray Edwards and a diverse collection of free contemporary art awaits. Comprising the largest collection of women's art in Europe, the New Hall Art Collection is impressive in its scope and curation of artwork. Particularly exciting is the placement of art. Much of it is homed in long concrete corridors which overlook the fountain centre; modernist and chic, the art is viewed in an environment of light and space. In this section, special mention must go to the simplicity of Tracey Emin's lithographs Believe in Extraordinary and Birds; both pieces, which radiate optimism through their celebratory declarations of love and the words on Birds ("You inspire me with/ Your determination/ And I love you"), are dedicated to participants in the London 2012 Paralympic Games.
Other pieces are placed in a way that demands an interaction between the audience, the art, and the building. This is exemplified by my favourite piece, Wendy Taylor's Three Dung Beetles, which can be found nestled at the bottom of a spiral staircase – sinister and foreboding as you gaze upon them. In the buttery, Maggi Hamblin's arresting Gulf Women Prepare for War was inspired by a photograph taken a few years before the Gulf War. It aims to shock through its juxtaposition of women in chadors grappling with large guns and the dusty pink of the desert. Alongside it hangs Paula Rego's response: Inês de Castro. This piece unsettles in its depiction of a man kissing the skeletal hand of a luxuriously adorned and long dead woman. The placement of these works enables a comparison between the two seemingly opposing, yet both equally compelling, themes of war and enduring love.
"Pieces are placed in a way which demands an interaction between the audience, the art, and the building"
More art can be found within Jesus College, where 26 items of sculpture are scattered around the grounds. Although Barry Flanagan's Bronze Horse is perhaps the most recognised, other work also demands attention. I would like to draw attention to Bryan Kneale's Lucifer. The balance-defying stainless steel curves of this sculpture amaze in their ability to converge effortless to a single point, while also reflecting light to create a dazzling piece of art on brighter days. In complete contrast, the minimalist slabs of Phillip King's Brake confront the viewer with their harsh angles – an uncluttered construction which reflects his interest in 'primary structures'. As a sculptor, King was a significant figure in the early 60s New Generation art movement – a style which renewed British post-war sculpture. An example of revitalisation can be seen in his use of fibreglass in Brake, a material which gave a feeling of freshness and innovation when first used in the Sixties.
New HTML Container
---
Angels in the architecture
Another college which boasts an impressive art collection is Downing, whose Heong gallery opened in 2016. Unlike, Murray Edwards and Jesus, Downing does not have a permanent collection of art. Instead, they put on an exhibitions programme which explores the colleges connections to the art world through its alumni. The benefit of this is that one is able to explore a continuous variety of work, with previous exhibitions focusing on Ai Weiwei, sculptor Dame Eli and the illustrations of Quentin Blake