Yes, Donald Trump is a conceptual artist
James Dickinson argues in favour of conceptual artist Christoph Büchel and his petition to formally recognise Trump's Mexican border prototypes as art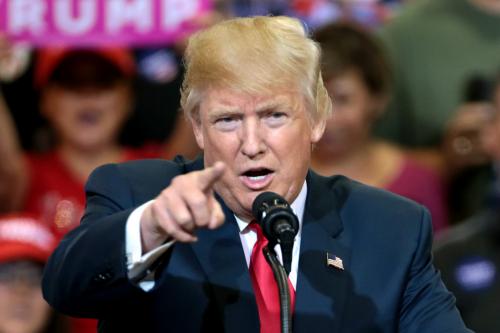 With over twenty-five cities in the US having removed Confederate statues in 2017, debates about history and politics in public art have never raged as fiercely as they do today. It is therefore somewhat unsurprising that conceptual artist Christoph Büchel's online petition to have Trump's border wall prototypes recognised as Land Art and declared a national monument has caught public attention. 
The petition argues that the prototypes are of "significant cultural value and are historical land art" and should thus be protected by the Antiquities Act of 1906. The prototypes, constructed by six different firms and costing $3.3 million in federal funds, were unveiled in October, and it is not hard to see why they could be preserved based purely on their artistic merit. The eight test walls bear a striking resemblance to American twentieth-century minimalist art, such as Donald Judd's 15 untitled works in concrete (a collection of unpolished square tubes, placed carefully in the Texan desert), and have a similar aesthetic impact to Kubrick's monoliths in 2001: A Space Odyssey. The monuments, all equal in height but differing in their individual materials and design, evoke these same minimalist themes of shape, form and surface. Yet for all their sparseness, they embody a meteoric change in American history – akin to how we view Stonehenge within human history – and can be viewed as a great work of land art itself.
"Büchel is a foreigner pressuring a government into conforming with his desires as an outsider"
Büchel claims the works to be apolitical, asserting that the artistic value of the monoliths should be assessed purely in aesthetic terms. But it seems that even the aesthetics of this work are political, as the domineering forms disrupt the surrounding desert and cloudless sky. The official design criteria are even more politically charged, for the wall only has one visual requirement: that the side facing the US be "aesthetically pleasing", with no such considerations being made for the side facing Mexico. One of the prototypes, costing $470,000 and made by Texas Sterling Construction, features an arguably pleasant stone facade, while bare concrete and razor wire greet the eyes of Mexican viewers. 
The Swiss-Icelandic conceptual artist Büchel is not directly affected by the sculpture, being neither American nor Mexican – something which makes his investment in the project appear surprising initially. "My political position, that's not interesting in this context," he tells The New York Times, but this seems fairly obvious. Büchel is a foreigner pressuring a government into conforming with his desires as an outsider. I cannot help but be reminded of analogous situations of the United States thrusting its ideals on other nations, or the pertinence of the US forcing the wall onto the Mexican people. Perhaps, indeed, the most interesting part of the petition is the artist. Büchel rejects artistic credibility, but rather recognises Trump and his American supporters as the authors of the work. There is a long tradition of appropriation in the art world with the likes of Marcel Duchamp, Richard Prince, and Sherrie Levine all using pre-existing objects or images in their work. However, where these figures almost invariably take credit as creator, Büchel curiously violates this norm. Perhaps he is reminding us that it is not he himself that is responsible for the idea of a border-wall, but, rather, the responsibility lies with the American people.
The petition has been met with some criticism, most notably for its lack of an overt political statement. Andrea Alessi of Artslant heavily criticised Büchel for his failure to take a political stance and has reduced it down a mere PR stunt. While Büchel does have a history of provocative art (for the 2015 Venice Biennale he commissioned a mosque to be built inside the walls of a former Catholic church) I think the precise subtlety of the work shows great personal artistic growth, as well being where the brilliance of this particular work resides.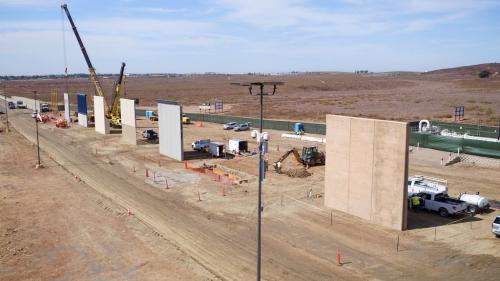 In light of recent discussions about confederate monuments, it is evident that the wall fulfils the arguments used by Republicans to keep the statues remaining, namely, for the historical record. It has the added bonus of not being openly political, so arguments about whether it should be torn down in the future for an altering moral code should be eschewed. The Right may view the prototypes as a historical artefact, whereas the Left may view it as a solemn reminder of the xenophobia permeating through the American public at this time. The prototypes are not just a 30-foot-tall sight gag, they are a considered statement, with the meaning of the artwork so clearly coming from the viewer. 
This petition is just one of many statements by artists concerning the border-wall. The artist who goes by the name of JR was responsible for holding a giant picnic, involving an enormous table which spanned both sides of the existing US-Mexico border wall. Design-collective J.M. Design Studio responded to Trump's calls for proposals with designs such as A Wall of Hammocks, A Wall of Pipe Organs, and A Wall of Gravestones for Migrants And Refugees. Büchel's work is not even the only artistic petition, as another conceptual artist Luis Camnitzer requested that the land artist Christo build the wall as a new version of his Running Fence (1972-76) – a temporary installation piece which involved a white fabric fence extended across the hills of northern California. But Büchel's work stands apart as it lacks the gimmicky overtness of the other art, as well as raising important questions of how meaning and value are ascribed, and by whom.
With Trump's Mexican wall prototypes being visually analogous to works of American twentieth-century minimalism, and its message reflecting values chosen and voted for by the American people, Trump's monoliths, for better or worse, embody the America of today