A season in Hell: an ethnography of LinkedIn
Violet Editor Oona Lagercrantz joins the Linked people in their natural habitat over the summer and quickly becomes curiously insufferable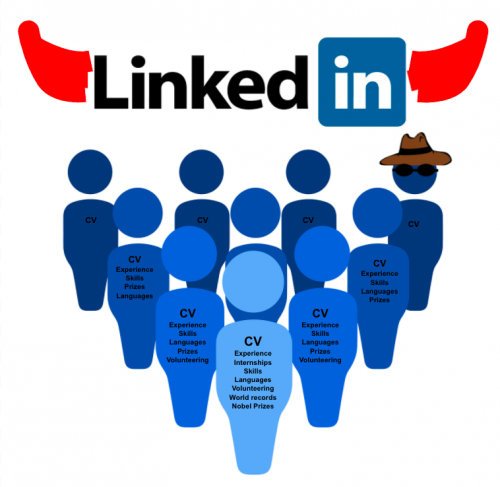 During the summer I started hearing rumours about the Linked: a group of people supposedly stylish, social, smart and successful. I thought this sounded suspicious, and — as the great anthropologist I am — set out for their homeland to investigate. Reclined in my armchair, phone in hand, I soon reached the blue-tinted shores of LinkedIn and signed myself up.
The Linked were immediately recognisable: sophisticated-looking and constantly in a hurry. Not one of them bothered to look at me. Yet I was able to find out exactly what they were up to — in fact, it would have been impossible not to — because whatever it was they had done, they were humbled/proud/overjoyed/frankly-a-little-bit-smug to announce it at the top of their lungs to everyone within earshot. These announcements were then met with a chorus of congratulations, followed by even louder announcements, which in turn received even more congratulations and announcements and congratulations — ad infinitum.
"Was I accepted onto a program that accepted every single person who applied? Indeed, I was humbled to have been!"
Faced with this maelstrom of vainglory, I was in for quite the culture shock. As a born and bred Swede, the Scandinavian cultural norm known as the Law of Jante is deeply ingrained in me; a norm that can be summarised as Do Not Think You Are Special. Its most basic implication is Do Not Publicly Brag About All Your Skills and Achievements. To my knowledge, the UK has a similar cultural aversion towards bragging. Come to think of it, it may be a universal decency norm.
Nevertheless, to properly immerse myself in the Linked culture, I had to abandon these cultural preconceptions. Was I accepted onto a program that accepted every single person who applied? Indeed, I was humbled to have been! Did I have 'full professional proficiency' in Norwegian and Danish? With some alcohol involved, definitely! Had I received any recommendations? Well, a friend once said I could be a comedian if I was just less awkward, stopped dressing like an old person, and had a sense of humour! The more I refined my new Linked persona, the more Linked people chose to view me — two of them, to be exact — and I have to admit that it was all rather exciting.
But my excitement wore off, however, as I came to realise my inferiority to the high-status Linked: the Kings and Queens of LinkedIn. I managed to interview one of them — whom I've chosen not to name because they're currently studying at Cambridge — and our encounter began with my interviewee expressing shock when I said I was only in LinkedIn for the summer:
"But how would you otherwise keep track of your network?"
"My netwhat?"
"Your connections! I have 500+"
"You mean my friends?"
"Friends?! We're not the Facebook People."
We had some communication problems, to put things mildly.
"What's the point of all this?" I managed.
"To join the bourgeoisie."
"Join the what now?"
"Toiloitte's, Hogan's lovers, Evermore, Brain and company, Oliver whyman, Ubs, Roschgrownup, Goldman's sack, Ernest and old or get Opportunities in Investment banking or Stockbroking Internship Experiences: THEBOURGEOSIE. Are you stupid?"
"Was this the fate of humanity? Everyone becoming a walking CV, competing with others for attention and casting their nets for personal gain?"
This goal was widely shared among the Linked. But not among all. Indeed, the only thing that seemed to connect them all was a desire for 'work opportunities' — which I could relate to. "How are employers supposed to find you if you're not Linked?" they would ask me. One person put things even more bluntly:
"If I could leave this hellhole, I would. But I don't have a choice. None of us do. Either you're Linked or you're a nobody."
LinkedIn definitely wasn't the promised land of hope and humbleness, but by now I had begun thinking it was literal hell on earth. Worse yet, I worried it might be the future — LinkedIn already had 774 million inhabitants and counting. Was this the fate of humanity? Everyone becoming a walking CV, competing with others for attention and casting their nets for personal gain? Perhaps this also meant the end of humanity as such? Viewing my new Linked-self in the mirror, I struggled to detect anything human — no flaws, fears or bad jokes — and I didn't recognise myself. Yet I still felt vaguely human. And so I remained hopeful that it was possible to be both Linked and human: some sort of part-human, part-Linked cyborg. But at what cost?
My doubts about LinkedIn outweighed my current desperation for work opportunities, and I decided to leave. Or 'hibernate', as the Linked insisted on calling it. "Everyone needs a break once in a while," I was told sympathetically — with the emphasis on the word break — because they were clearly confident that it wouldn't be long before I'd emerge from my hibernation. And I suspected they were right. In a couple of years, if not sooner, when desperation overcame my doubts…
So, I figured, perhaps the best option was to learn from the most successful: those who didn't just survive, but thrived in LinkedIn. I remembered the words of one person I'd spoken to in particular:
"You need to chill. End of humanity blablabla — stop overthinking everything! See an opportunity to boast? Take it! And what could be more human than wanting attention for trivial things?"
It was true. In fact, to this day — whenever I close my eyes and think about the two anonymous people who viewed all my skills and achievements — I can still taste the vainglory. It almost makes me miss LinkedIn. Almost being the keyword.