On arriving in Cambridge, mid-pandemic…
Violet's latest columnist Ethan Cyrus Hemmati recounts his recent arrival at college, and being greeted by a strange, mid-pandemic atmosphere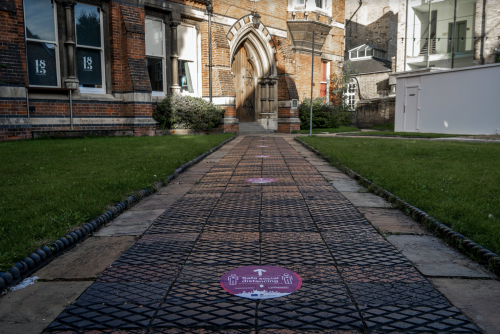 I'm dragging my suitcase into college, fumbling with a thin black disposable mask, the safe and sexy new addition to the college look. Around me, most people seem to be doing the same thing: assessing everyone else's use of face coverings and adjusting their own behaviour to match. Outside I pass three masked students, and I feel comfortable that I'm wearing my own as well; there's that brief moment when we panic about not being able to communicate with smiles or facial expressions, so instead we all courteously nod at each other, which just makes us look a bit stern and geriatric. Later, I pass a non-masked girl in a college puffer, and then a group of non-masked boys. I wonder if I've maybe unknowingly entered into a covid-free zone. I pass two more boys, a masked porter, a parent, and the same girl in the college puffer. I recognise no one.
"I mindlessly scare myself and watch a couple of videos of students vlogging from their halls and talking about wearing PPE to the bathroom"
Student accommodations across the country are dominating the major news bulletins. I mindlessly scare myself and watch a couple of videos of students vlogging from their halls, talking about wearing PPE to the bathroom. There's a strange video where the screen is split into fourths, with Philip Schofield on the far left hand side, a student zooming from her laptop next to him, the student's parents crammed into the third frame from their living room, and Holly Willoughby at the end, frowning. No one looks like they're having much fun. This procrastination inevitably ends up with YouTube recommending a talkRADIO soundbite, and I watch a man with glasses vitriolically cut up a face mask with a pair of scissors and grin into the camera. I think to myself, at least it's not Julia Hartley-Brewer, or the nodding man from New Zealand. Elsewhere the world talks of Trump, and every piece of news about him is breaking. I diligently scroll through my emails and look for new information about course reading and teaching; instead, I am told that the University of Cambridge aims to divest from fossil fuels by 2030. I look outside and it's already dark.
The next evening, I'm playing music in my room when I see thin beams of light flash outside my window. I look outside and figure out that they're coming from the tall trees, and it appears that there are figures running through them and across the pitch in the dark, presumably waving the torches from their phones. It's creepy, almost ritualistic, because I can't seem to hear any voices – I just see the long bright streaks zigzagging across the trees. After a while the whole thing looks quite aesthetically pleasing, like a strange art installation, so I sit and watch for a bit. A few minutes later I see two porters and a policeman march into the trees, and the lights go off one by one. I imagine a silent struggle breaks out, and the porters and policeman sinisterly emerge from the trees empty handed.
"I watch a group of lads walk into Sainsbury's unmasked; the woman on duty at the door squirms"
One of them says, "Thanks for your help anyway," and heads off.
The remaining two talk about Scholars Walk, then there's a silence, and they're gone.
In the morning I ask a few people if they know anything about the people in the trees, but no one seems to know much at all.
I'm having a coffee with a friend from Queen's, and we're talking about the recent outbreak and restrictions over there. There's some discussion of student complacency, but also paranoia, and we reach the general public consensus that everyone is stupid. On a walk through Jesus Green, we pass the closed ADC theatre. My friend, who is a Tom Hiddleston fan, tells me about how Tom was a member of the Pitt Club, and we pass its headquarters in Pizza Express. I think about how Pizza Express has oddly found itself at the centre of a number of British tabloid dramas, not recently the branch in Woking that was hailed as Prince Andrew's alibi on Newsnight.
That evening, I'm waiting for a takeaway pizza and I watch a group of lads walk into Sainsbury's unmasked; the woman on duty at the door squirms, and I feel bad for her. Back at college, groups whisper conspiratorially amongst themselves in the dark. I head over to the trees, but the people with torches seem long gone. On the ground there's a crushed can of Strongbow, and nothing else.