Navigating the Weird and Wonderful World of College Families
Columnist Scarlet Rowe decodes the mystifying world of college families for our freshers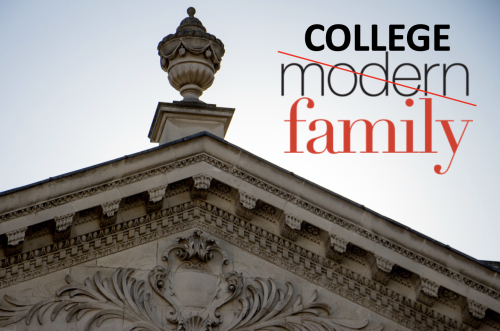 We've all been there. Trying to desperately explain to bewildered friends exactly what a college family entails. Having to face the sheer amusement that the concept creates. Pretending to find it all equally ridiculous too. Secretly thinking that, no, this is family. Why should my newfound identity as a mother be taken away from me?
It's tough, but we persevere. One day, college families will be recognised, both legally and universally. Also whilst I'm here, if you are my college son and you are reading this, please do check your Facebook messenger. It's no fun being a mother when your children are missing in action. Without further ado, then, here is a guide to the college family, and what to expect.
What is a college family?
When you join Cambridge, you are allotted parents, usually in the year above. You'll probably have two parents (although some rarities have 4 or even 5 - it's all a part of the lottery of life). You will most likely have some siblings too. Hopefully you'll get along better with your college siblings than lots of us do with our siblings back home.
What are college parents supposed to do?
"You could also ask your parents to show you around Cambridge"
Your parents are supposed to help you integrate into college. They're there to answer all of your questions and help you out if you're worried about anything. My college mother helped me out with essays (especially one on the Westphalian system which confounded me somewhat) and also met up with me midway through Michaelmas term when I was feeling overwhelmed by everything. You could also ask your parents to show you around Cambridge when you arrive and point you to the best spots.
Do college families tend to be close?
Honestly, this really depends. Some families never speak to each other after the first week, which is a little tragic. Others become the best of friends. Most hover in the space in between. It mainly depends on whether you have interests in common or a similar sense of humour. If the stars have aligned in your favour, then that's great. However, there is no rule that you have to spend time with your college families if they are just not your cup of tea.
Are there any taboos surrounding college marriage?
"The logic behind this is pretty simple: if you break up, then your own college family may fall apart"
Yes there are! You shouldn't marry your real-life romantic partner. This will be met with disapproving glances. The logic behind this is pretty simple: if you break up, then your own college family may fall apart. Naturally, I ignored this taboo and married my boyfriend. I am forever living with the consequences. Also, you probably shouldn't sleep with your college children or anything. That would be college incest (eek!). But it does happen, and if you happen to be crazily attracted to your son, then blame it on nature or something.
How do you actually get married in the first place?
If you find the platonic-ish love(s) of your life at college and want to take the next step and secure their hand in marriage, then you may want to act quickly. Someone else may have their eye on the same person(s) as you, so you don't want to miss out. Obviously it is not a race and you don't want to be too keen. Most people got engaged towards the end of Michaelmas and the start of Lent.
As you only get engaged once (or twice), you've got to make it special. Propose in the middle of town like no one's watching, or on a punt, or with a haribo ring (there's nothing more romantic than that). Prepare a beautiful speech singing the praises of your loved one. You can make it as comical or meaningful as you like (not that the two are mutually exclusive of course). My husband proposed to me at the Law Ball after getting down on one knee. He didn't get me a ring though, so the marriage may have to be annulled (sorry Ed).
Can you divorce?
Unfortunately, there is no constitution to keep up to date on the ins and outs of college marriages. If there is trouble in paradise though, I imagine you can divorce. Or rather, I'd hope you can, because it would be quite archaic otherwise. Remember to break the news to your kids gently though, as it may be difficult for them.
I hope I've enlightened you a little. Or at least, I hope I haven't confused you even more than you already are. In this time of uncertainty, we need college families more than ever before: unity over division, compassion over hostility, college family over… no college family?? And please, sons, reply on Facebook. I may have to report you as Missing Persons soon if you're not careful. I'm just an anxious mother who cares for the welfare of her children. Is that so bad?