The Lonely Student Guide to Cambridge: Honest Sights for a New 'Normal'
A guide written for the students who will venture into a very different Cambridge for the first time this year.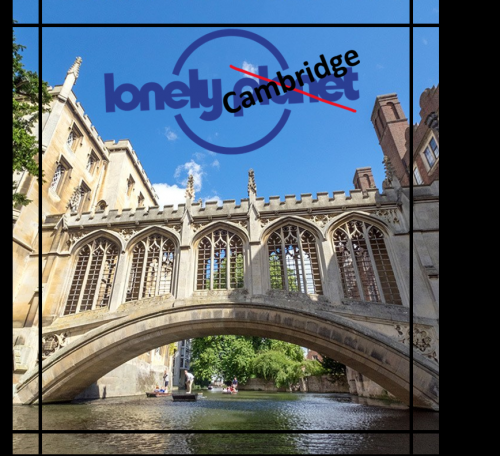 Abounding with spires which prod the sky, as well as plenty of black-gowned privilege, Cambridge is full of tourists for good reason – and it's notjust  to make you late to lectures. If you are Cambridge-bound in October, you may be wondering how to make the most of your limited 8-week terms in this splendid city of learning. Have no fear: my three years of staggering to the library with an armful of books have provided me with the perfect honest guide.
Where to eat
You will perhaps start the year off making acquaintances in your college buttery, falling far too fast into the trap of eating chips with every meal. (Guilty as charged.) Sometime later, you might venture into an attempt at culinary prowess, blasting music from a phone as you and a new friend prod some peppers in a wok and fail to realise the hob has turned itself off after ten minutes. The resulting stir fry will still taste exquisite: adulthood in a bowl. Take a left turn back into your bedroom after a hearty homecooked meal and you'll find that essay is has sadly not written itself.
Later in term, you will be faced with temptation: should you develop an addiction to Aromi's arancini, start a sushi habit aided by the 5+ sushi restaurants in the town centre, or throw in the towel and start ordering Deliveroo at 2am after every bop night? Of course, choosing any of the above would be to overlook one culinary hidden gem which can be found within walking distance of your desk: eating a bowl of pasta for the fourth night in a row.
Visiting the Colleges
You might make it to your second term at Cambridge before you become aware of the Formal Challenge: the goal of attending a formal at every single college in the university. If you decide this isn't for you, I'd recommend visiting a fair few colleges anyway. Using King's College as a regular shortcut will never get old.
Of course, there are less conventional ways to see all the colleges than attending formals and supervisions, and some of those ways might take you there for an overnight stay… I'm talking about May Balls, obviously… what did you think I meant?
Night life
Ah, yes, that age old question: just how bad is the night life in Cambridge? Honestly, I've no idea what people complain about. Hearing ABBA come on right as you're thinking you'll call it a night in Cindies will become a cherished memory, and the somewhat hazy conversations in the smoking area will provide great entertainment if you are not part of them. As for Life—no, Kuda—wait, Vinyl?! Well, the sticky floor and steamy mirror ceiling add a certain je-ne-sais-quoi (and I don't want to know, either).
Where to study during the day
When exam term hits, you're going to be grateful for Cambridge's whopping 116 libraries. Much like the stack of books you ambitiously took home over the holidays, you'll probably never get around to visiting most of them.
If you want a gorgeously airy yet eerily stress-saturated experience, the Law Faculty is for you. Bonus points awarded every time you see someone wearing a suit.
Perhaps you'd like to boost your celebrity spotting skills? Get yourself across to the Classics library, where you might just spot Mary Beard. If you don't spot her, you'll likely spot lots of real beards instead – either on statues or old professors. And then you can fight for a seat at a desk where you're allowed to use a laptop.
Tired of Sidgwick? No problem. If you're not a Mathmo, get yourself across to the Maths library, where apparently the majority of students don't remotely do anything related to numbers.
My personal favourite, though, was always the MML library – a perfect spot to take a break on your busy day of sightseeing in exam term, as they serve biscuits and squash at 3pm.
Where to study at 3am
As if you have any choice. Get yourself a blanket and a cosy corner of the college library. In a year or so, you won't even be able to bear looking at the seat you sat in for seven consecutive essay crises and will decide to study downstairs from now on… until that seat also carries too great an aura of despair. This fun activity never grows old, because the essays never stop. Rinse and repeat until graduation.
Where to socialise
Despite my apparent fixation (flashbacks?) on essay-writing locations, there will be time to squeeze in a social life around a terminally unfinished to-do list. Don't let anyone tell you otherwise (though likewise don't be fooled by the people who appear to have five hobbies and still hand in their work on time: these people are not real and you will not be one of them).
Get yourself down to a bop (leave early), join the local cheese and wine society (then eat cheese in your room instead), form a feminist book club (more reading?!), go on a march past Senate House (banner-making is artisanal), take a bike ride to see the ducks in West Cambridge (a must-see), and do yoga on the somewhat grim bop room floor (enlightened).
And when you get home and your grandparents ask how things are going, smile wanly and get ready to repeat on a constant loop for the next three years: "Well, you know. We work hard and we play hard."