University Online: A dramatic reading
We open on a scene set in a new online world, one that Nadya Miryanova cannot escape, master or survive.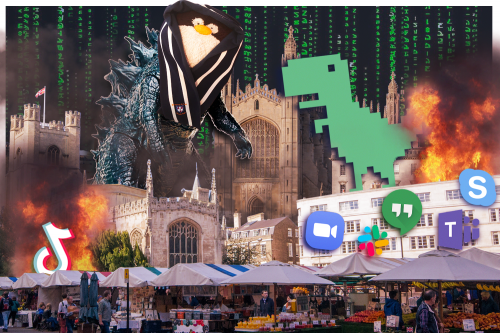 You'd think someone with both parents working in IT would inherit at least an ounce of their competence and enthusiasm for navigating the online world. I wish this were the case. Computing was never my strong point at school- even my reception report affirmed that my "mouse skills are below average"- and not much has changed since. So it was with a heavy sigh that I opened the email informing us Easter term would be online. The prospect of not seeing my friends and operating too many new online platforms certainly wasn't an inviting one. Though some years have passed since high school technological angst, my transition to online university has been far from seamless. Turning the device off and on again doesn't always work, apparently.
Microsoft Teams, Google Meet, Zoom- all of us have been launched into a dizzying world of applications. Do I use the web app or download the software? Is software even the right word? Why am I stuck with a little dinosaur for company instead of my supervisor? These are questions I don't know the answers to- all I know is that the Google Chrome "No Internet" dinosaur has been getting far more exercise than myself these past few days (if the game has escaped your notice, go check it out- it almost makes faulty WiFi worth it).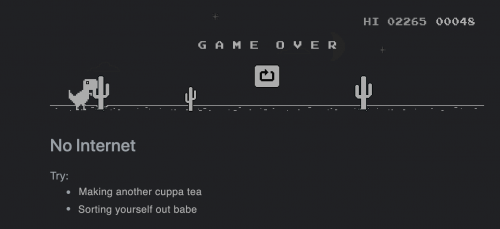 "How will Zoomiversity shape my daily routine?" I wondered. Alas, there's a slight difference between my previous expectation and present reality:
Expectation: The hours fly past as I vigorously type away at my enthralling work, writing 100 words per minute and fitting 5 lectures into 5 seconds. I socialise, exercise, organise- and calmly conclude all activity in time for my classes, which I've prepared for way in advance anyway.
It's a nice idea.
Reality: An hour into watching dog TikToks, I realise that my supervision is in one minute. I've barely moved all day, but I'm suddenly struck with an urgent, unstoppable need to grab a cup of tea, dash to the loo, drink a litre of water, and consume all the snacks in the house. After overturning my entire room to find the relevant supervision sheet (which was conveniently hiding beneath the expanding army of mugs on my desk), I take a deep breath and press on the Zoom link- only to find that it's expired. When I've finally dug out the correct one, the infernal camera shows me my dishevelled self. I should have added a makeover to the one minute "mission-impossible" pre-supervision panic list.
Preparations for my first group meeting had the same chaotic energy. I'd somehow got the right Zoom link for this one and having pressed some relevant-looking download buttons (never a good idea), I found myself in a virtual waiting room. For someone who was sitting in their bedroom and staring at a computer screen, I felt abnormally nervous- it was like being back at interview all over again. I tuned into the call and everything seemed to be working okay. It was a big relief, and I began to think that things were fine after all.
Narrator: things were not fine.
After about five minutes, people started to disappear off my screen into a black oblivion and Zoom stopped working altogether. I tried to find the cause of this sorcery and found my crafted array of 18947948 open tabs staring back at me, unimpressed by my attempt to invite a plus one to their party. After a good twenty minutes of useless panicking and blindly closing all applications I could (including Zoom itself, which I then had to reinstall), I finally connected to the last five minutes of the meeting and had to stifle a laugh as my DoS said our generation was more technologically competent. I'd missed 99% of the call's important information, had blown Zoom's own mind, and resorted to writing to my friend straight after to ask what had happened. Technology: 1, Nadya: 0.
"How will Zoomiversity shape my daily routine?" I wondered. Alas, there's a slight difference between my previous expectation and present reality:
Despite this failed attempt, I was determined to triumph and tried to prepare more productively for my next meeting. I even put some books below my computer to improve the camera angle, and to my surprise, the meeting ran very smoothly. My tutor even spotted the Harry Potter series at the top of my bookshelf. I can't tell whether I'm disappointed or relieved that she didn't remark on the huge penguin toy that sat on my bed, taking up half of the background and staring directly at her from this new camera positioning.
As you have probably gathered, my online education continues like a series of pantomimes where the main character has forgotten to learn the script. Narrator, cue montage:
Scene 1- the shaky beginning
I put a post-it note on my door to indicate that I had a French class, but it was too high up for my cat to read, so she missed the memo and nearly broke down my bedroom door. 
Scene 2- the thrilling development
A confused supervisor connected to my empty chair, as I'd tried (unsuccessfully) to be a ninja and turn the main light on in time. 
Scene 3- the dramatic pinnacle 
In my excitement to receive an update from the Vice-Chancellor, I spilt a mug of tea on my computer. 
Scene 4- the unexpected twist
I spent 20 minutes in a Zoom meeting room, waiting for a supervision that took place the day before.
Scene 5- the stunning conclusion
My street had a particularly well-timed power cut which saw technology give up on me altogether. As the Internet bid me farewell, I realised (a little too late) that it took many things with it. My work was online. My reading was online. My essay due that day was also...online. It was a fun time.
Though it sometimes feels like I'm eternally stuck in a Zoom call in some Mad Max-style dystopia, though I know Google Meet and I will never be good friends, and though it's a stressful and without a doubt uNpReCeDeNtEd experience, I'm very grateful that our university community remains united through education in these challenging times. And until the future offers an alternative, I guess Penguini (yes, that is his name) and I will be sitting in my room, puzzling out virtual pub quizzes, remaining 5 lectures behind schedule, and (im)patiently waiting for a chance to experience life at Cambridge again.