Cambridge revealed as most anti-Trump city in the UK
A survey conducted after Donald Trump's visit also showed that, in an election, Dwayne 'The Rock' Johnson would lay the smack down on Trump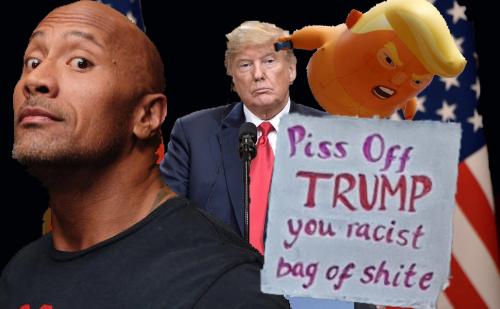 The people of Cambridge are seemingly tired of 'so much winning' after recent survey conducted in the wake of Donald Trump's visit to the UK revealed that the city is the most 'anti-Trump' in the country.
The famed pollsters and political pundits at Paddy Power, who conducted the survey, found that a measly 6% of Cambridge's population wanted Trump to be re-elected in 2020. The national average is 21%.
The survey also revealed 11% of Cambridge residents opined that Trump was a 'good' president, compared to a national average of 27%.
A measly 6% of Cambridge's population want Trump to be re-elected in 2020.
These results are perhaps unsurprising given the protests that went on in Cambridge against the president during his visit, which saw hundreds take to the streets.
Students at Cambridge have protested against Trump's presidency from the early stages, with over a thousand people attending a protest against Trump's travel ban in February of last year. When Trump's sideman and general 'sleaze ball', Roger Stone, spoke at the Cambridge Union in February this year, his talk shocked some with its Trumpism.
The University of Cambridge Twitter account has previously thrown shade at the Commander in Chief bigly. At 2:17am, on the morning of the 9th of November 2016 (the day after the presidential election), the University tweeted the 'neutral face' emoji.
The betting company also polled people on who they would like to succeed Trump in 2020, and revealed considerable support in Cambridge for Dwayne 'The Rock' Johnson to be elected the 46th president of the United States.
In total, 19% of those surveyed supported Johnson's election.
Last year, in the US, a campaign committee called 'Run the Rock 2020' officially filed with the Federal Election Committee. 'The Rock' has stated that there is a "real possibility" that he could run for POTUS, and has previously jabbed at Trump, saying his election proves that "not everybody should run for president."
Violet can't help but predict that an election run between the incumbent small-handed Trump and political-outsider 'The Rock' Johnson would result in a Trump knockout.
Neck-and-neck with The Rock, tied at 19%, is Hillary Clinton. 
It's a shame there isn't a Cambridge primary. Violet is sure Cambridge Analytica would be delighted to sell their services to the highest bidder.