Man vs Market
Want to test out the culinary delights of Market Square but don't know where to start? Vicky Morrison is here to help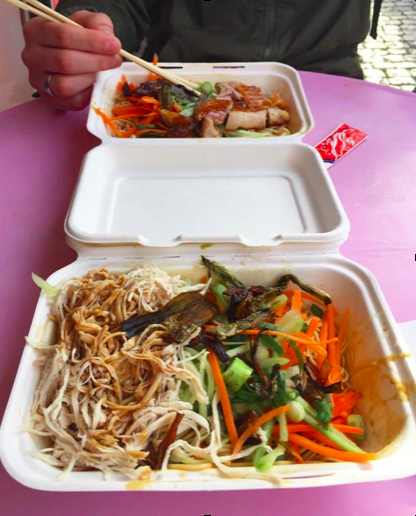 This term I have taken it upon myself to discover as fully as possible the pros and cons of the bustling little square at the heart of town. Therefore, I have endeavoured to eat as much of the food that the Cambridge Country Market has to offer within a mere few weeks, so you lucky readers are able to venture out into the biting cold (pardon the pun) and get a taste for yourselves before the end of Michaelmas. This was a treacherous feat for any one person, but alas it had to be done. 
My efforts were, however, kindly rewarded with the delights that I found in the market square at many a lunch time, so I thought I'd share the best of the bunch with you today. Now, I can't claim to have eaten at every single food stall (I'm only human for crying out loud! And also on an increasingly-tight student budget) but I gave it a good go. So in no particular order, here is where you should be heading to satisfy your independent-food-stall-market-lunch cravings: 
NB. It's definitely worth mentioning that the stalls rotate on different days, so it's a bit of a gamble as to which ones you'll find on any given day. All the more fun, I say! 
Caffe Mobile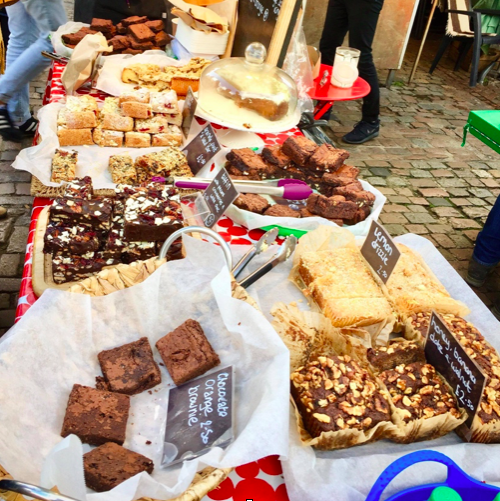 Buried among rows of stalls swarming with locals and varying degrees of miscellaneous clothing and objects, one discovers the mouth-watering displays of cakes and pastries offered by a vast range of local bakers. I would argue, however, that the best of these has to be Caffe Mobile. If you're going to spend your £2.50 on any one little sweet snack, I would advise that you head straight for this wee cake stall, identifiable by the tiny van saying 'Caffe Mobile' on the side. This minuscule vehicle – which I really hope is their actual mode of transport – opens up its boot during the day time and doubles up as a coffee station serving very good coffee. In particular, I would recommend the raspberry blondies, and any of their brownies. Arguably an uninspired choice but very, very worth it. They also offer excellent gluten free options. Great stuff!
Arepas Station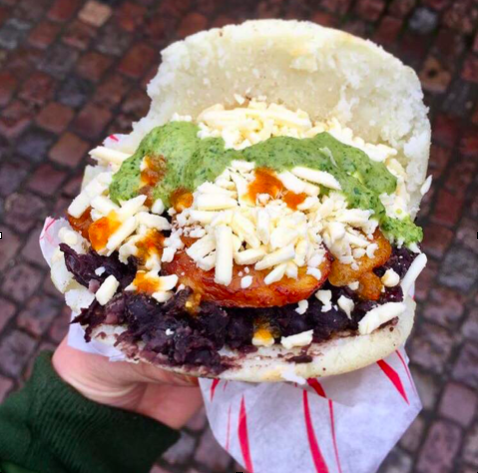 This stall sells a Venezuelan diet staple, arepas, which are gluten-free pancake/buns essentially made from cornflour and water and filled with a variety of delectable fillings all typical of Venezuelan cuisine. My favourite option, for example, is the Domino, consisting of an arepa filled with black beans, cheese, and most importantly, fried plantain. All topped with a homemade coriander and garlic sauce. Pretty damn good. They offer meat options as well, but if you can, try to get one which includes the plantain, because you definitely will not regret it. You can get most of the options for around £4.50-£6. Do it!  
Hong Kong Street Food
Having only recently tried out this stall, I'm ashamed to say it's taken me so long to do so. This little stall offers traditional Chinese dishes all made by a very smiley guy right in front of you. I still have much to try on the menu, but I can definitely recommend the 'Shredded Chicken Scallion Noodle' dish, complete with the tastiest peanutty soy sauce which I literally could have guzzled a whole glass of (maybe a bit far). The dish was filling and super fresh, and we even got to sit on the tiny stools which form part of the dining experience.
Brazilian food stall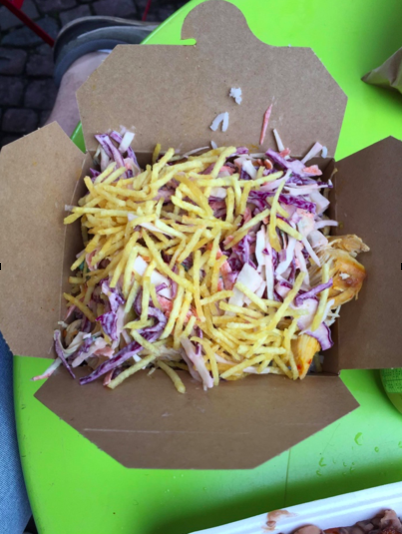 This is a definite top 3 for me. This Brazilian food stall is run by a Brazilian lady (shock) who serves up the national dishes such as Feijoada (really tasty stewed black beans served with rice for £6) as well as other traditional dishes. If you go, you absolutely must try the chicken sapliado, which is basically some delicious chicken served with rice and spicy coleslaw. To be honest, I'm not even sure what it was exactly that I was eating but it was one of the yummiest things I have tried in recent times. They also sell pasteis de nata, a Portuguese delicacy which is similar to a cream tart and are incredibly tasty. 
All main dishes are £6 and (if I'm not mistaken) the stall is only there on the weekends, so run along while you can and get your Brazilian fix. This stall changes location but you'll be able to spot it because it's painted like the Brazilian flag!
Africfood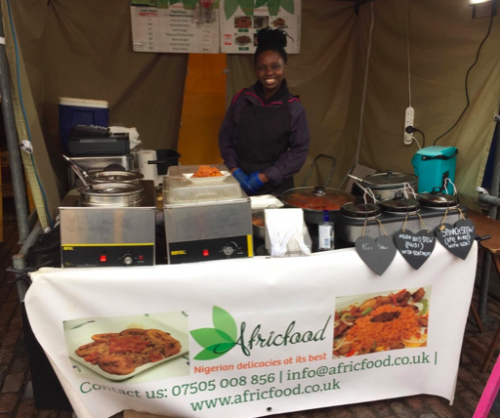 If you're looking for traditional Nigerian delicacies, then look no further! This stall is run by the loveliest Nigerian woman who cooks her dishes fresh each morning at the crack of dawn. The menu is fascinating; I enjoyed my first-ever melon seed stew with goat meat. Something I never thought I would say, particularly in Cambridge, but it was very tasty indeed and it was so refreshing to try something novel. I had this with beans and absolutely delicious fried plantain. All of this for £5 and it filled me up for the rest of the afternoon (a rare thing indeed).  
Anyone who reads this article and has made it to this point; congrats! There is finally a reward for your patience. If you go to Africfood and use my initials, VM, as a code (you might have to remind her that I was the article girl), then you can enjoy a 20% discount on your meal. You're welcome. 
The Wrap King
I won't dwell on this one too much, as I've already spoken about it in a recent article (shameless self-publicising), but a falafel and halloumi wrap from The Wrap King himself never fails to impress me. The flavours and ingredients are all beautiful and super fresh, and the best thing is that he is here pretty much every day of the week (I think it might even be every day… don't hold me to this). Just a great option every time and you definitely get your £5 worth. Long live The Wrap King!
So there we have it, your next 5 (at least) lunchtimes sorted. Your bank account may not be the most grateful, but life is too short to worry about these minor complications. Enjoy the market and be merry!