Food Review: Mee and I
Violet foodie Vicky Morrison was impressed by Castle Street's Asian tapas restaurant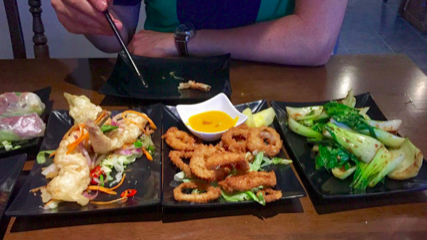 A visit from the parents is always great, not least because it is guaranteed to be a day which doesn't involve a Sainsbury's meal deal and swigging tap water out of a 2-week-old plastic bottle. When my father came to visit at the end of last term, I had been planning ahead and needed only consult my 'parent meals in Cambridge' list of restaurants on my phone to know where we were going to try out for food this time. I decided that we would try something novel and book a table at Mee and I, the Asian tapas restaurant just up the hill from Magdalene College. Following considerable research, I'd heard good things about this place and had been intrigued by the concept of 'Asian tapas' for quite some time. Needless to say, it did not disappoint.
"Every part of the meal was bursting in flavour and originality"
When we first arrived at the restaurant, following an hour of lugging suitcases, coats, bags and furniture around college in the well-rehearsed activity of clearing out my room at the end of each term (one of the joys of Cambridge existence), it was 8:30pm and we were pretty ravenous. There are two options on the menu: tapas or a 'Big Plate', the latter of which is just one standard dish. Feeling adventurous, we opted for several tapas, a choice which had the added bonus of being able to order an enormous quantity of 'little' dishes without feeling quite as guilty. When the plates of colourful food started emerging at an excitingly rapid rate, it became clear that we'd ordered both very well and rather excessively. Nonetheless, it was a gastronomic challenge I felt I'd earned after a term of exam pressure and yet more college meals of boiled cauliflower and questionably-coloured meat stews.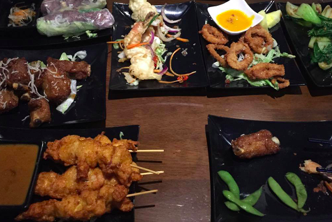 First, there were the tempura prawns, which came on a bed of chilli, fresh stir-fried vegetables, a simple yet beautiful addition to the dish. The prawns were coated in a very thin layer of crispy batter and were beautifully crisp and non-greasy. Next came the coconut-crusted calamari, a dish combining two of my favourite things in a delicious crunchy union. The squid was beautifully cooked, yet the coconut coating was completely novel to me, as was the accompanying sauce, mango and pineapple 'mangoco', which could have almost been mistaken for a liquefied sorbet due to its sweetness. Although I'm usually wary of over-sweet sauces, for they risk overpowering all other flavours, here it worked wonderfully with the coconut crust and gave the dish a tropical, light and refreshing spin. The next dish featured two rather large but beautifully colourful Vietnamese Teriyaki Beef rice paper rolls served with a nuoc mam sauce. The rice paper was super thin and light, and the fillings of raw carrots, fresh coriander, teriyaki beef and oodles of vermicelli noodles comprised a delightful, crunchy addition to the table.
We also ordered a couple of meat courses (because three huge tapas plates clearly weren't enough). First were the teriyaki glazed pork ribs, which were messy, sticky and delicious, and we also ordered chicken satays. Each satay provided a very generous portion of extremely juicy deep fried chicken and an abundance of peanut sauce. Finally, we topped our huge order off with garlicky stir-fried, crunchy pak choi a mountain of edamame beans, which all went down a treat. Not a bean was wasted.
Every part of the meal was bursting in flavour and originality, and the best realisation was that they also provide take away, so a regular order of coconut squid is 100% on the cards for next year. What a time to be alive.
For reference, most of the sharing dishes cost between £5 and £6, and since we weren't drinking before the drive home, it turned out to be pretty good value