Bread and Rutter: NOVI
Violet food reviewer Emma Rutter revisits this chameleon of a café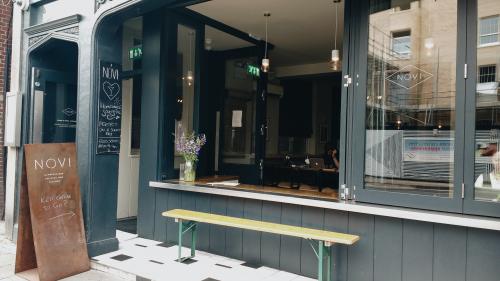 NOVI was one of the first cafés I visited back in Michaelmas term, when I had promised myself that café visits were an occasional treat to be enjoyed when I had a little bit of cash to spare. (Oh, how wrong I was!)
Six months or so later, I decided it was high time to go again, and so returned on a sunny Friday morning in the midst of exam season. It was fairly quiet, and felt quite cold because of the smooth concrete floors and amount of open space in the café. (Minimalist, I'm sure they would say!)
They do have a lovely window bench, though, and the front window opens up when the sun comes out, allowing you to enjoy your coffee in the fresh air. They are also in the process of opening a rooftop bar, though unfortunately it was still under construction whilst I was there and didn't make for the prettiest of views. But not to worry: I had the food to occupy my attention.
"The perfect place to socialise if you want to stay up late but can't face Friday Life"
NOVI offers a good range of vegan options as well as food for meat eaters, so it's the perfect place to take your vegan and more carnivorous friends. I'm looking forward to trying their vegan chocolate cake, which gleamed dark and rich on the counter. (I hope it's as good as their carrot cake!) It's good to see that their vegan friendly choices are not limited to salads; you can even order vegan pancakes, burgers and sharing boards.
We opted for brunch, accompanied by coffee (of course). I debated hard over whether to order the smoothie bowl, or the porridge with blueberry compote, but opted for something savoury instead. My quinoa bread – soft and crumbly – arrived topped with sautéed kale and two perfectly fried eggs. A sprinkle of salt and pepper brought the flavour out no end, and the feta sauce which accompanied it was deliciously creamy.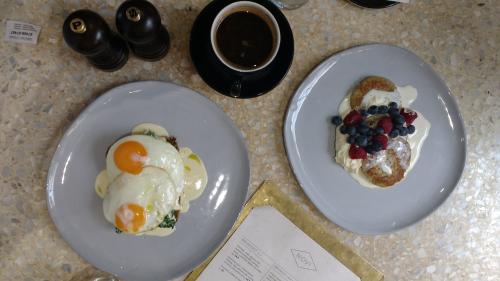 My friend chose the chia seed pancakes with berries and maple cream. This cream won high praises (though it did drown the pancakes, not unlike how the feta sauce drowned my dish). She commented, however, that they had picked "aesthetics over substance", creating only a few small pancakes that seemed a little overpriced for six pounds. I think their 'small' plates – perfect for lunch – are more reasonably priced, with a bowl of soup and some sourdough bread costing just under five pounds.
NOVI's big selling point is its opening hours. It's open from 9 o'clock in the morning until 3 o'clock the next morning, making it the perfect place to socialise if you want to stay up late but can't bring yourself to go to Friday Life. The room upstairs is good for social gatherings, and you can make the most of their extensive range of alcohol, which includes fruity/coffee cocktails and local craft beers. I'd add a sharing board to your drinks order, which could include anything from a plate of tasty charcuterie to mushroom falafels and sticky chicken wings.
On the other hand, these flexible opening hours mean that NOVI seems a little confused about its identity. Is it a café? Is it a restaurant? Is it a bar? This fluidity doesn't affect the quality of the food (at least, not to my knowledge), but it does mean that the system for placing your orders is a bit bizarre: you read the menu at your table, order food at the bar, and wait for it to be brought to your table. Whilst this may work well in the evening bar set-up, it doesn't function quite so well during the day.
In general, NOVI wins my praise for its carefully selected range of vegan/non-vegan food and its quality flavour combinations. Whether you choose to start or end your day there, I'm sure you'll enjoy it either way