#ThompsonWatch: Emma Thompson leaves awestruck fans in her wake while gallivanting around Cambridge
The A-list actress has spent the weekend enjoying the highlights of her old university to the amazement of its current intake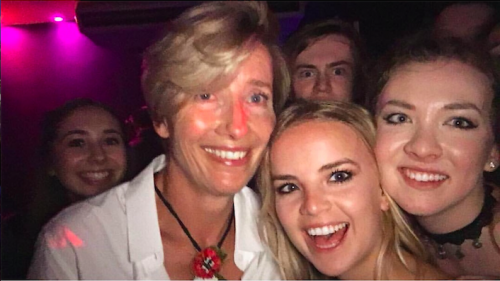 In her 35-year career on stage and screen, Emma Thompson has starred in seemingly everything from Harry Potter to Love Actually to Nanny McPhee. Yet, the former Footlight caused a similar sensation back in Cambridge this weekend just by being herself.
"Those who clocked they were sharing a Waterstones basement with an A-lister flooded her with selfie requests"
When Thompson stood up at the Cambridge Union on Friday night, it had been a case of so far, so normal – at least for her show-stopping standards. Her first stop had been her alma mater, Newnham, where she graduated in English Literature in 1981. Over the course of an hour's conversation with current Newnhamites, which has since been seen over 4,500 times on Facebook, Thompson cracked open some anecdotes about her student years – including her first drink at the Baron of Beef – and advocated feminism and human rights.
Then it was on to her hotly-anticipated appearance at the Union. She immediately opened with a list of her most outrageous moments at Cambridge, one of which was having sex in the Newnham toilets, before waxing lyrical about one of the most successful acting careers of a generation. Thompson was the first woman to be invited to join the legendary Footlights comedy troupe, where her acting star began to glow and she went out with Hugh Laurie.
After hearing her speak, Maureen Good, a first-year PBS student, described Thompson as "Incredible, so honest and friendly. She engaged with the audience and was very genuine".
If that wasn't engaging and genuine enough, Thompson – who had concluded her talk by suggesting that everyone go out dancing that evening – led the way by making her inaugural appearance in Life. Living up to the expectations held of a woman who once rode a motorbike down the halls of Newnham (contrary to popular belief, it was an admirer of hers who was actually responsible), she jumped at the invitation from the Union Speakers Officer.
Not only did Thompson's moves lead Jonah Surkes to describe her as "a GREAT dancer", she was also up for sampling the ultimate clubbing delicacy, a VK. Laura Brown offered to buy her a drink, and the actress plumped for the orange and passionfruit flavour. Laura later described her gesture as the "best £2.50 I've ever spent!"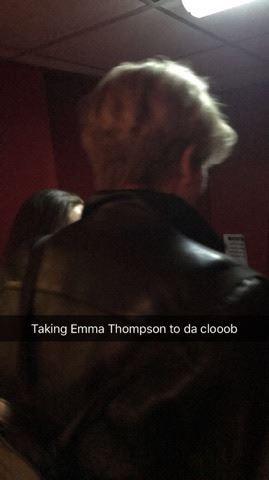 Those who clocked they were sharing the basement of Waterstones with an A-list celebrity flooded her with requests for selfies. Thompson only stayed in the club for around half an hour, however, before making a swift exit to The Mitre and sleeping at St John's.
Sense and Sensibility recovered, Thompson spent the following afternoon taking in the sun on the riverbank of the Clare Fellows' Gardens, surrounded by some Union hacks and a few more lucky students. Sophia Luu, a second-year History of Art student at Clare, carried a cup of tea all the way from Clare's Colony building (a 15-minute walk away), just to hand it to the actress.
Sophia described the Oscar-winning actress as "such a down to earth person, who was wearing some lovely dungarees. She remembered all our names and talked to everyone." Thompson was spotted lounging in the shade, as well as enthusiastically engaging in conversation with those around her, not to mention being happy to oblige to the rich strain selfie requests too.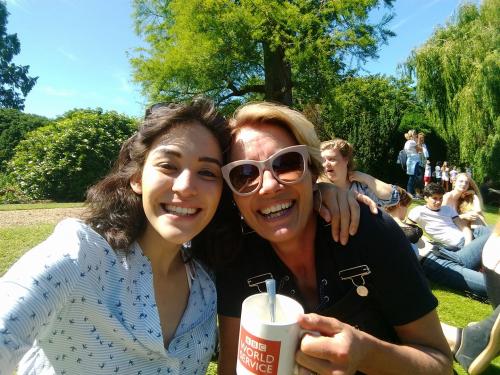 She managed to remain rather incognito as she enjoyed the view from the edge of the Cam, going completely unnoticed by the passing punt tours, and attracting minimal attention as she then left the gardens and walked through town. One Clare student, who followed behind her as she headed towards Magdalene, said that a few people seemed to do a double-take, but there was certainly no media frenzy.
Emma Thompson's stay in Cambridge was brief, but characteristically frantic, and current Cantabs certainly enjoyed being able to do a spot of star-gazing for a day or two