Let Huppert be Huppert: Home Sweet Home
Violet's Shudong Li is charged with a new role in the Lib Dem campaign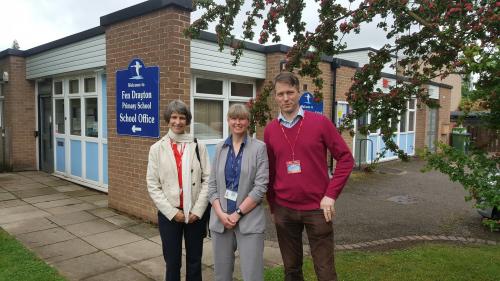 Charlie Young was the body man for POTUS (President of the United States) in the political drama series, The West Wing. He carried the President's coat, ushered him to the next meeting and made sure he woke up at the right time. His role was mainly pastoral – an assistant who made sure nothing went wrong.
To my surprise, in a meeting with the organisers at the beginning of the South Cambridgeshire campaign, I was assigned this particular role to Susan van de Ven, the Liberal Democrat candidate. Before I began said role, I modelled myself on Charlie, I knew not to overstep the boundaries, not to suggest any ideas because Charlie never did. However, I was foolish to think that me and Charlie were in any way similar.
Among our visits where I became Susan's shadow, we visited a Primary School in Fen Drayton. A small state primary with just under one hundred pupils. Sitting in the Headmaster's office, Susan and I listened carefully. Incidentally, she was a governor at the local village college.
We talked school meals, how the primary school will have to hire extra staff for the free breakfasts which they just can't afford. We talked about how Pupil Premiums were the key to balancing their bursting budget. We talked about how music and art classes may have to be scrapped because there just wasn't enough money to outsource. It became apparent many of these small rural schools were at the tipping point, small schools which don't have enough pupils to get the cash they need under the current funding formula.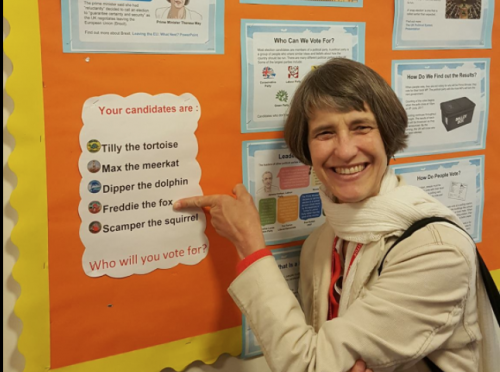 It wasn't all doom and gloom, though. The children we visited looked happier than I ever did in primary school. Furthermore, we heard about how they had all been taught about democracy, there were five different animal candidates who were standing for election: Freddie the fox was Susan's favourite. If I was taught all this in primary school, maybe it would not have taken me until after my degree to get involved with politics.
During my time with Susan, it surprised me was how much policy talk I was able to have with her. On our car journeys, the topic rarely shifted away from Brexit or education and she seemed to always listen to what I had to say. Despite the fact I am incredibly naïve and the child of the bubble.
Our journeys together became a melting pot of different ways she could attack Tory policies and defend herself. School cuts, grammar schools, the coalition years – it was a privilege to be able to discuss all these things with a candidate. Even though Susan had been a councillor for 13 years now, her knowledge and grasp of national politics needed to blossom and I was more than happy to be her colleague along the way. We explored the different areas together, sharpened our arguments and sculpted our defences.
"There are arguments both ways: we should stop campaigning out of respect for the victims of Manchester... but we can't let the terrorists win"
In amongst our conversations, I found out the real reason I should vote for Susan – she was of basketball royalty! For all the NBA fans out there – Susan's maiden name was Kerr, her little brother is none other than Steve Kerr – head coach for the Golden State Warriors, home of Steph Curry and now Kevin Durant.
Joking aside, this week has been tumultuous, the Manchester bombings silenced the country. Campaigning halted and both Susan's and Julian's hustings were cancelled. This was intended to be a hustings-heavy week but Heidi Allen (South Cambridgeshire Conservative candidate) has managed to postpone/cancel three hustings already, against the wishes of the Liberal Democrats and Labour. This is a similar situation people are finding across the country, as Conservative candidates have tried to stifle any opportunity for movement.
There are arguments both ways: we should stop campaigning out of respect for the victims of Manchester... but we can't let the terrorists win, as our democracy is exactly what they hold in contempt.
Either way, it is completely arbitrary to say no to hustings but to say yes to knocking on doors and canvassing. Just as how UKIP shut down the national conversation after Jo Cox's cowardly murder at the hands of a deranged anti-EU citizen during the Leave campaign, the Conservatives across the country are attempting to use Manchester to stifle the conversation while their media arms do their dirty work. In doing so, they keep the Conservatives out of harm's way, encased in a thin layer of faux-morality.
What makes me angry is not the idea that we should cease campaigning out of respect. It's that there was no chance the Conservatives would have make that decision if they weren't in the lead.
It was a clear political decision. With Labour making gains, there is little advantage to allowing the same conversations to occur. The real shame in all this is that, at the end of the day, the deaths of 22 people are going to be politicised, no matter what side you are on. By saying you are not going to politicise a situation, you are politicising the situation – and in the case of the Conservatives – it is with little respect for the harmed. Just like May deciding to call an election while out on a "walk" – it is purely for power