Bread and Rutter: The UL Tearoom
Violet food critic Emma Rutter discovers what culinary secrets the University Library has to offer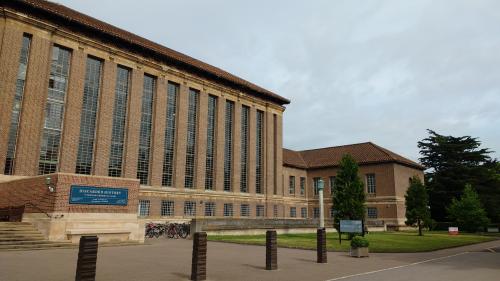 You're probably sick and tired of hearing about the UL by now. I expect that many of you will have ventured in there at some point over the past few weeks to pick up a book, find an elusive journal article or get some serious studying done – in your best clothes, of course, in the vain hope that someone will write a Crushbridge post about you.
If the UL is your preferred study space year-round, then hats off to you. Seriously. I took myself in three weeks into Michaelmas Term, determined that I, one of Cambridge's most promising Freshers, would not be beaten by the UL. But I was too arrogant, too self-assured; I had too much faith in myself and not enough knowledge of how the system worked, resulting in a tearful moment when I realised I had spent the best part of an hour waiting for my book request to be completed, only to notice that I hadn't filled the form in properly.
"Had I known about the tea room in Michaelmas, I don't think my first trip into the UL would have been quite such a scary experience."
"That's alright," I thought to myself, "I'll just go and find this journal article about allegory in Medieval Spain – it should be simple enough…" And yet, when I got to the journal room (at least, I think that's what it was), the instructions on my reading list didn't make sense. "My lecturer said it would be in her pigeonhole," I said hopefully to the lady at the desk, who then told me, "She doesn't have a pigeonhole."
I was floored. I admitted defeat, and left, not destined to return until Lent Term, by which time a friendly postgrad had told me about all about the cataloguing system.
Had I known about the tearoom in Michaelmas, I don't think my first trip into the UL would have been quite such a scary experience. I don't know about you, but I automatically associate the word "tearoom" with some kind of quaint café, with tablecloths, silver tea pots and the gentle sound of elderly visitors stirring sugar lumps into their coffee.
The UL Tea Room is nothing like that.
It reminds me more of a canteen – in a good way, I suppose. It's filled full of long tables, so there is plenty of space to work, though you may have to get over your dislike of studying in close proximity to others if you hope to work there. The coffee, unlike that in other University-run cafés, is self-service, which allows you to make your coffee choice in your own time (does anyone else find that they get slightly stressed when asked to order before you have decided between a cappuccino and a latte?).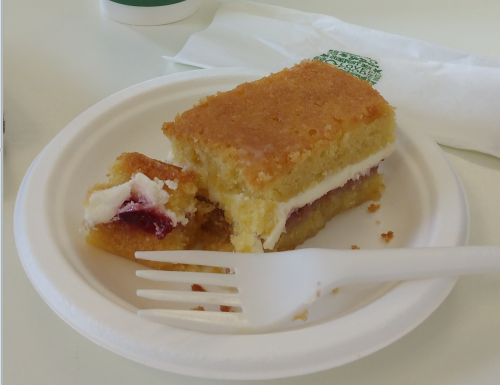 Like the Grad Café from last week, you can use your coffee/tea stamp cards here, and you'll find a selection of hot food and sandwiches for lunchtimes. They have a good range of vegetarian options, and if you're in the mood for a sugar boost, you can pick from pastries, yoghurts, Eat Natural bars (always a winner), or a homemade traybake.
I had lifted a slice of sultana/cherry cake onto my eco-friendly disposable plate before I realised that what I really wanted was a slice of their gluten-free Victoria Sponge. What a good decision that was. Sweet and moist, with a thick (but not too thick) layer of creamy icing in the middle – this was almost as good as my mum's. Their peppermint squares looked promising, and you'll find Nutella muffins here too.
I encountered two main complaints when I talked about the tea rooms to my friends. "It's a bit pricey," was the first. And I'll admit, if you visit it every day you'll rack up a large bill rather quickly. But why not keep it as a treat for when you really need that essay break?
The second complaint was that it closes "far too early". Five o'clock in the afternoon may be a relatively normal closing time, but with the UL open until nine in the evenings during exam term, it is a bit annoying to have to leave for your dinner. Even a vending machine would be a good start.
As far as library cafés go, the Tea Room isn't bad. It's not the most welcoming of cafés I've ever been to, but it creates a more communal, friendly space within what can seem like a rather daunting building. I wouldn't go out of my way to visit it, but if I find myself in the UL, there's no place I'd rather be