Bread and Rutter: The Grad Café
Violet's food connoisseur Emma Rutter takes on the heights of the Grad Café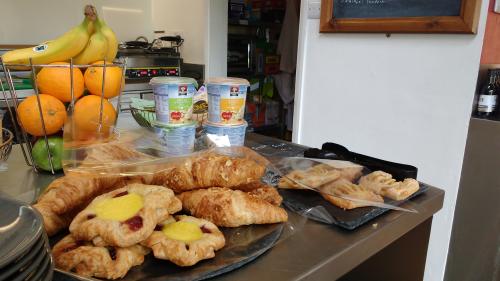 Last weekend I had what was quite possibly one of the worst cups of coffee in my entire life. I had taken myself to the Grad Café on Mill Lane, and had decided to splurge and order a cappuccino (Saturday habits die hard). It looked promising enough when it arrived, even if the froth was a bit haphazardly strewn across the top, but after the first sip, I realised that I could barely taste any coffee. Instead of a comforting creamy coffee, I had received a mug of slightly bitter warm milk.
You can imagine my horror. After drinking most of it (I had paid for it, after all), I called a friend, who provided some much needed moral support whilst I got up the courage to buy an Americano to add to the dregs of my "cappuccino". I did try a filter coffee on a separate occasion and, whilst it's not going to win any prizes, it was decent enough. Hopefully the cappuccino was just a one-off mistake. Coffee here is cheap in comparison to other cafés in Cambridge (always a bonus) and you can use the same stamp cards as they use in the buttery on the Sidgwick site, so I imagine you could earn a free tea or coffee pretty quickly.
One other plus point about the link between this café and the Sidgwick Buttery is that they both sell Nutella muffins. It's worth a trip for those alone. The Grad Café has a nice array of traybakes (in the English sense of the word), such as apple crumble squares or almond sponge slices. You'll also find croissants and pain au raisins, and potentially, apricot and raspberry Danish pastries. I wasn't quite sure what to expect with my pastry after the cappuccino fiasco, but was pleasantly surprised by the quality of my pain au raisin – a nice crispy golden exterior swirled with sweet crème pâtissière .
"One big positive about the Grad Café is the view...once you get to the top you are rewarded with a room flooded with light and a beautiful view over the Cam and the Mathematical Bridge"
I made a stop for lunch there this week with two friends, and thought that their lunch options were a lot better than the soggy paninis of the Sidgwick site. They don't sell hot food, which is a shame – soup or a baked potato would have been welcome – but they can toast a panini for you or warm a mini cheesy focacci.
My falafel and tzatziki filled baguette was filling and felt rather wholesome. There were nice chunks of cucumber in the tzatziki, and the falafel was well-flavoured with onion and spices. The bottled apple juice was, to quote my friend, "the best juice I've had so far in Cambridge." And that's coming from a juice connoisseur. They sell a decent range of drinks, including sparkling Belvoir Lemonade and some herbal teas for when you can't justify another coffee.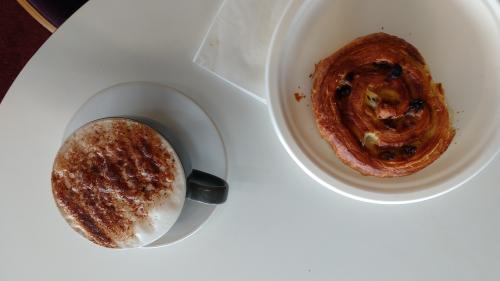 One big positive about the Grad Café is the view. It may be at the very top of the University Centre, involving a confusing journey up many mirrored staircases which all look the same, but once you get to the top you are rewarded with a room flooded with light and a beautiful view over the Cam and the Mathematical Bridge. It's very much a study space with a café attached, though, unlike the Sidgwick Buttery; there's a hushed atmosphere about it and almost everyone there sits with a laptop or textbook open in front of them. The tables provide adequate space for spreading out your work, and you can sit in a soft chair if you're craving a bit of cushioning to get you through the last days of revision.
I'd like to see more breakfast options besides the token pot of porridge and rather plain-looking bowl of fresh fruit – perhaps something with yoghurt and granola – and, of course, a better cappuccino. But all in all, the Grad Café would be a good place to work if you like to be surrounded by a little bit of buzz, and need some extra fuel to keep you going.
Perhaps I just ordered a cappuccino on a bad day