Bread and Rutter: Bedouin
Violet's food critic Emma Rutter travels to the faraway restaurant of Bedouin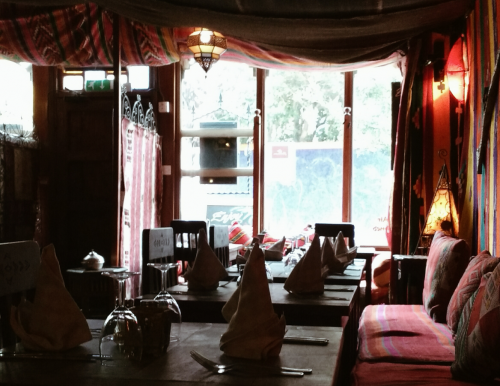 Take a deep breath. We're stepping into uncharted territory this week: Mill Road.
People tend to whisper about Mill Road and its Korean supermarket. Making a trip here sound more like a sacred pilgrimage than a visit to the shops. And let's not beat around the bush: it's a lot further away than most other restaurants. But I hope that I can convince you to make the trek out here because, if you do, you will be thoroughly rewarded.
Bedouin looks dark from the outside, clad in mahogany, and when you push open the heavy door it feels as if you have been transported into a bedouin tent at some point during the journey from the centre of town. The ceiling is low and draped with fabric whilst the squat chairs and tables, piled with intricately-designed cushions, create a cosy and intimate atmosphere (but be warned: the chairs aren't as soft as they look.)
"I imagine that the place really comes alive at night, when they light the candles and dim the already-dim lights to create a truly exotic atmosphere"
We started with spicy pan-fried sardines and hanuiounettes – that's cheesy cauliflower fritters. They were piping hot, crisp on the outside and soft on the inside, and the little pot of sauce that accompanied them was really piquant. For the main course we ordered two different lamb tagines: one tomato-based and smattered with melting Gruyère cheese, the other cooked with root vegetables and ginger. I'd recommend the tagine zaytoun: chicken, carrots and green olives simmered slowly in a turmeric and coriander sauce until the carrots are meltingly soft and the chicken is tender. The crunchy crust of the tagine bread was studded with nigella seeds and hid an airy, fluffy centre that was just right for mopping up the sauce. My godmother chose couscous to accompany her lamb meatball tagine but reflected that the bread would have been a better choice, simply because the portion sizes were so generous.
We were stuffed by this point, but in the interests of market research we decided we had better try the desserts. I was tempted by a chilled Algerian rice pudding flavoured with vanilla and orange blossom, but fell for the fig tart (which, upon reflection, is rather surprising, given that I don't like figs very much). If my chicken tagine hadn't been so great, I would have said that the dessert was the highlight of the meal. The figs were sweet and sticky, sitting proudly atop a thin round of flaky pastry and complimented by smooth vanilla ice-cream and a dusting of lurid green pistachio dust. Delicious. The halaoui (a plate of traditional Algerian cakes) chosen by my godfather seemed to be mostly composed of nuts, honey and golden pastry: a winning combination, in my book.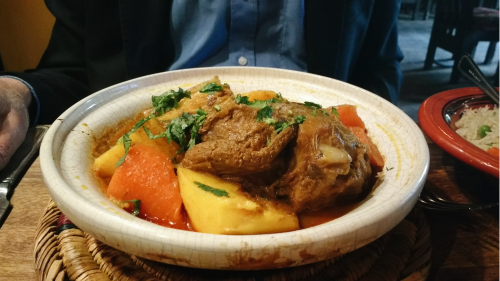 We finished off our afternoon with a quick coffee. Mine was made with crushed cardamom (what can I say? I like to push the boat out), which added a pleasant sweetness and delicate flavour to the potent drink. They also serve wine here, though my godparents weren't especially impressed about their Algerian red: "A nice summery wine, but nothing special." Having said that, they were members of the Wine Society for many years and so probably have a more developed palate than most of us.
By the time we had finished, the restaurant was empty. In fact, it hadn't been very busy to start with, but perhaps that had something to do with the fact that we visited on a slow Thursday afternoon. I imagine that the place really comes alive at night, when they light the candles and dim the already-dim lights to create a truly exotic atmosphere.
Service was a little slow at first, but you can put that down to 'exotic charm'. In the same vein, it's worth noting that they don't take credit cards. "We're Arabs," our waiter said, "we like to do things differently." He became more friendly as the afternoon progressed and by the end I felt that we had developed quite a rapport. He told us that they had a solid base of regular customers, and I can see why: a three-course meal that costs under eighteen pounds is hard to ignore.
My recommendation? Visit Bedouin one summer's evening, when your exams are over and you can spend the whole night feasting to your heart (and stomach)'s content. Just don't forget to take some cash