CUSU Hustings Bingo
Play along as we cover the student politics highlight of the year!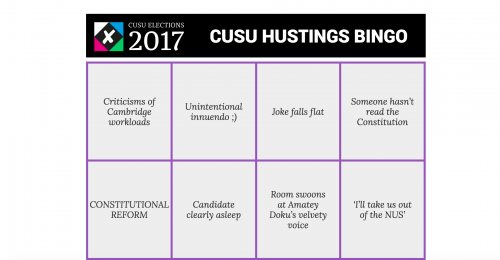 Looking for a way to liven up hustings? Try Varsity's brand new hustings bingo!
All you have to do is follow along, and take a shot (or another sensible quantity of something) every time you get a square.
Grab a drink, or do it sober – either way, play along with our very own Deputy News Editor, Matt Gutteridge, on our Violet drunk live blog here.
It promises to be an eventful night – don't miss out on all the fun. Please be sensible while drinking!
Comprehensive elections coverage
The latest news and analysis on the CUSU Elections, all in one place.
Visit Varsity's Elections 2017 hub.