Review: The Maids
A dark and thrilling production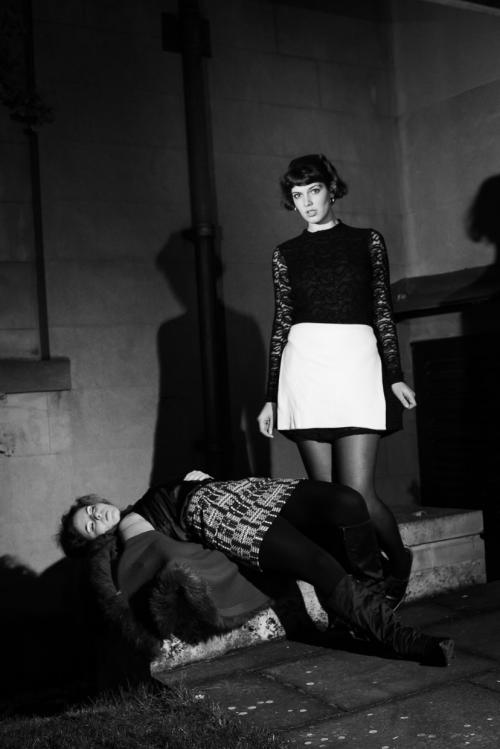 The Maids, directed by Zoe Barnes, was a brilliant and naturalistic interpretation of the play written by the French playwright, Jean Genet. All three parts were played by fantastic female actors who deliberately embodied the essence of their characters. The Maids were played by Isla Iago (Claire), a younger sister and Evie Butcher (Solange), an older sister. The Madam was played by Helen Vella Taylor. The play begins with Solange crawling along the floor in the Madam's bedroom which creates an atmosphere of crime or dark motives that unravel as story enfolds, and this is greatly stressed by dark music directed by Radu Thomas.
The maids' way to combat their poverty is by actively engaging in role-playing. They feel dirty and ashamed by having to live in oppressive circumstances. Clare is fulfilling her dream of wealth and prestige by playing the Madame, the employer that they both hate for her social standing. There are clear instances of both maids being engaged in acts of masochism that is showing their negative reaction to authority.  
Both Claire and Solange's great acting showed an expression of dominant and submissive moments, voicing their resentment towards the Madam. I felt mesmerised by the presence of Isla Iago on the stage in her role of Claire. Isla moved through the stage swiftly and sometimes angrily, expressing the emotions with stylised gestures that vividly heightened my awareness of times when she was role-playing. She delivered fabulous personification of the Madam in the role-playing game with Solange. The appearance of Madam on stage is rather brief, yet it strongly evoked my thoughts of the illusion of Madam created during the role-playing by Claire and Solange.
Costumes designed by Ella Woodward are an excellent choice. The black and white housemaid uniforms are ideal, and Claire wears a flattering housemaid uniform that matches her younger age, compared to more modest style uniform worn by Solange. I loved the red sequin dress randomly selected by Solange from the Madam wardrobe for Claire to wear. Claire's flattering undergarment brings a catchy element to the play. A second dress is white, monstrous, and extravagant with floor touching taffeta ruffles imitating the bad taste of Madam.
The set design by Elizabeth Hunt, emanates with over-abundance of real flowers indicating the Madam's wealth, and symbolising her narcissistic character and behaviour emanating with falsity. The bed-room has a large bed and the dressing table and the luxury of the interiors is stressed by the décor.
The Maids is on at the Judith E. Wilson Drama Studio at the Faculty of English at 8pm from Wednesday 10th February – Saturday 13th February