Review: Pippin
Pippin is professional and uplifting, a must-see for any fan of musical theatre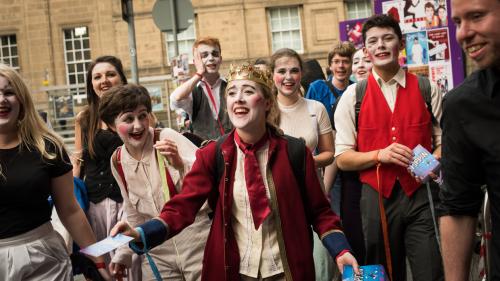 Wondering why a major Broadway musical re-production had landed ADC's lateshow spot and disconcerted by a barely half full house, I had my initial doubts about Pippin, Cambridge University Musical Theatre Society's Fringe show. However, I left the theatre feeling positively bubbly, humming the songs, wanting an encore, and feeling sorry only for anyone not in the audience.
In Pippin, an enigmatic theatre troupe performs the story of the title character, son of Charlemagne, who searches for meaning in his life, longing to be "dedicated to something heart and soul". These Disney-esque premises find some depth, and a brilliant comic effect, from the effect of breaking the fourth wall, and a great dose of the more adult-appropriate type of humour.
CUMTS performs with a professionalism gained in Edinburgh: just as Pippin goes from battle to brothel and revolutionary to farmer, the actors balance between comedy, puppeteering, and acrobatics. Music-wisely, not a note is missed, and the feel-good songs (from Stephen Schwartz, composer of Wicked) are delivered with an enthusiasm fit for a Broadway stage, with even the audience joining in for the sing-along bits. Also the comic delivery is spot-on; the heartiest laughs are achieved from breaking the fourth wall, the only hiccups ensuing from the occasionally childishly crude script. One of the highlights is the scene where a dead soldier is transformed into a human puppet, with the actors delivering the eerie effect with technical perfection.
The individual performances are strong all over, but exceptionally stellar are Tom Taplin as Pippin's slightly camp half-brother Lewis, Caroline Sautter as the steadfast narrator with also some of the best singing in the musical, and Megan Henson as the ever so cynical Charlemagne, performed with an astounding amount of energy.
The staging comprises a simple set of wooden boxes and minimalist lighting. Nothing more is needed as the troupe fills the stage with pure skill and carefully perfected choreographies, and the actors transform their minimal surroundings from regal palace to humble farmhouse with no technical hitches whatsoever. The lighting comes to its own in Glory! where it gently reflects the blood and steel of the lyrics – if less is ever more, it certainly is true in Pippin.
The only problems for the play arise from technical issues. Some of the lyrics were somewhat muffled as the singing was occasionally overridden by the music, and the microphones crackle more than even the most benevolent audience member could ignore. Another source of worry are the recurrent paraffin problems: while I could turn a blind eye on the failed attempts to light candles, the flame does unfortunately run out in the grand finale, which is all about fire. Minor flaws as they may be, these technical issues regrettably dampen the otherwise brilliant show, otherwise performed to near-perfection.
As in the main song, the troupe have magic to do, miracle plays to play, and parts to perform; all this, CUMTS do in an extraordinary way, making Pippin well worth leaving "your fields to flower" and "your cheese to sour."