RENT
A deft production and an astonishing cast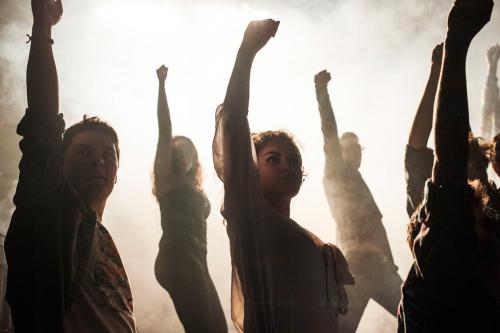 Earning a standing ovation from much of the audience, Gabbie Bird's production of RENT is clearly a crowd pleaser. It's a faithful adaptation of the musical, which follows a group of artists in early 1990s New York who are struggling to survive in all senses of the word. Much of the set and costume design are drawn directly from earlier productions, but are embellished by often gorgeous vocals.
Unsurprisingly, RENT's real selling point is the sheer – and extraordinary – talent of its cast. Several songs were incredible, if you can ignore the often clumsy lyrics (my own favourite was "goodbye love/hello disease!" at what should have been a deeply emotional moment). Particular highlights included Joanne and Maureen's (played by Jossie Evans and Emily Murray) duet, Take Me or Leave Me, and Roger's (played by Jonah Hauer-King) moving One Song Glory, while Toby Marlow's performance as platform-heeled drag queen Angel was nothing short of magnetic.
Overall, I felt that the smaller, more musically restrained pieces worked better in the ADC than those that utilised the entire cast – in these, the overlapping vocals had a tendency to fuse together into a wall of barely penetrable (and frankly unpleasant) noise. Issues with the sound were, sadly, relatively common. Quieter lines were often drowned out by the (consistently loud but exceptionally good) band, and occasionally microphones were not switched on or off at the correct moments, rendering several lines inaudible and another overlaid with coughing from an offstage cast member. Songs that contained soaring notes were either flattened or amplified so thoroughly that the sound became distorted.
This was a great shame considering how professional the rest of the production seemed. Sam Payne's lighting was invariably brilliant, easily establishing mood despite jarringly quick changes between songs at different ends of the emotional spectrum. The set design may not have been overly original, but it was atmospheric; built largely out of scaffolding and rubbish, it looked stunning. I would say the same for the costumes, but 1990s fashion doesn't really lend itself to such a glowing description…
If you love musicals, and you already love RENT, you will find little here to disappoint you. This deft production and its astonishing cast will no doubt make this one of your favourite productions of the term, if not the year. However, I cannot help feeling that this is a production that, despite its sleekness, never quite manages to shake off its performance history and truly stand on its own merits.
RENT is on at the ADC Theatre 11-21 March at 7.45pm