Boring Prince Bertie of Belgium and the attempted wedding of 1850
This farcical assortment of exaggerated accents, botched abductions and mistaken identities is pulled off excellently by a great comic cast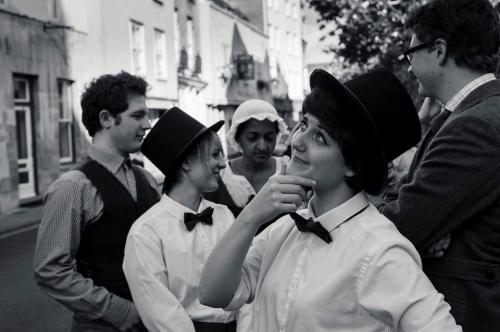 Set in a fictional Victorian era Europe, powerful royal families gather for the marriage Boring Prince Bertie to the heir to the Italian throne, the beautiful yet mysterious Princess Isabella. However, pretty much everyone involved has very different ideas about how this wedding should go. Suitors are vying for the Princess's hand before it is too late, or at least they think they are, and any who seemingly get too close are made to disappear.
The first few scenes suffered a little from actors rushing their lines, but this can hopefully be put down to opening night nerves, as by the end of the play the entire cast were giving confident, polished performances. 
Worthy of particular mention was Yasmin Freeman as the rather unorthodox Princess Isabella. Despite playing one of the few straight characters of the play, she managed to get just as many laughs as her more eccentric counterparts whilst running rings around every other scheming royal. At the other end of the comedic spectrum, Lily Lindon and Abi Palmer were definitely a highlight as Agent Tibi and Agent Boro, a duo of inept Romanian spies, whose half-witted smiles remained firmly plastered on throughout the show.
The set from the main show was used to great effect, with a balcony from which Queen Margaret of Great Britain and Queen Fifi of France could oversee their ridiculous schemes inevitably going awry. Special mention must also be given to the costume designers, Georgia Lowe and Megan Lea, for kitting out everyone in outfits which so perfectly matched their overly stereotyped accents.
The play's ludicrous plot combined every aspect of a traditional farce and was full of some genuinely hilarious moments. Some came from the larger than life characters, some from excellent fourth wall breakers, and others from the random occurrences, which included a gimp playing the organ. However, at times I felt the play tried a little too hard to shoehorn in extra gags, with, at one point, crashing sound effects as characters left the stage. This was really not necessary, as the cast were able to get enough laughs on their own.
Boring Prince Bertie is still definitely worth a watch if you're looking for something light-hearted and silly and I'll definitely be looking out for the cast in future comedies.