Oedipus and Antigone
Cara Atkinson feels that jarring tonal shifts spoils an otherwise strong production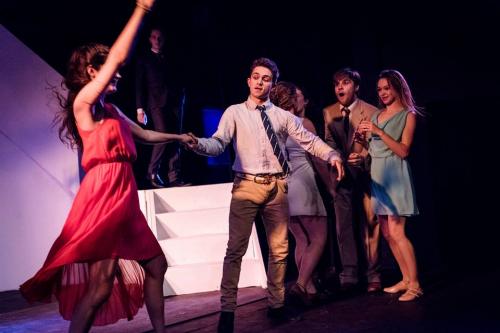 Thebes is dying, but you wouldn't know it from Oedipus and Antigone's raucous opening. The chorus dances to blaring pop, heralding a thoroughly modern production complete with an unusual all-white set. Their celebrations, which seem to promise a surprisingly upbeat take on accidental incest and defiance of a royal decree, are interrupted, however, by Oedipus, who asks the chorus what it is that troubles them. Such a confusing - and jarring - shift in tone is emblematic of the unevenness which plagues this otherwise strong production.
Telling the combined stories of Oedipus (Alasdair McNab), who famously (and unknowingly) kills his father and marries his mother, and his daughter Antigone (Rihanna Frost), who buries her brother against the king's orders, was never going to be anything but a challenge. As a whole, the two strands hold together remarkably well, assisted in no small part by the excellent Laura Waldren (Jocasta) on both sides of the interval and competent acting by all cast members. The play is at its best when it is at its boldest and most visually forceful, producing some truly striking scenes including a memorable re-enactment of Oedipus' prophecy in silhouette, and a powerful – and eerie – final scene in which the entire cast gather on the stage, staring blankly out into the audience. Several moments of high emotion were also very moving, with Oedipus' final appearance on stage in the first half proving especially devastating.
These strengths were, however, undermined by problems with tone that could not quite be masked by skilful acting. The shepherd-soldier was a particular weakness in the second half: he was very funny, and by no means gave a poor performance, but was often serving humour almost exclusively to undercut the dramatic tension that had been so assiduously built up - including a poorly-timed reference to Antigone being Haemon's "bird". In addition, the production felt a little unpolished at times, but these are likely issues that will be ironed out during this week's run: elevated scenes were often hampered by poor positioning which meant that crucial visual effects were obscured by the set.
This is not to say that this is a poor production: it is not. The force of the plot and the insistently dramatic second half unite Oedipus and Antigone into a thoroughly enjoyable whole, and a decidedly proficient retelling that is certainly worth the ticket price.