Down the Rabbit Hole
In the second of her series on dance in the time of Covid, Ellie Hunt considers Christopher Wheeldon's Alice's Adventures in Wonderland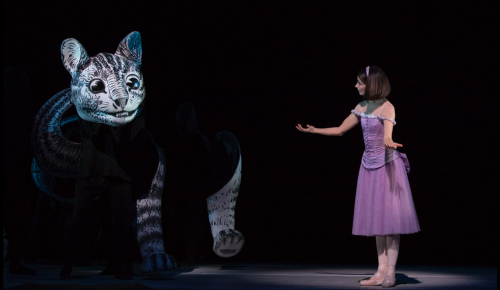 Christopher Wheeldon's Alice's Adventures in Wonderland is an incredibly ambitious retelling. At the time of its inception in 2011, this was the first full-length piece that the Royal Ballet had commissioned in almost 20 years. Such an endeavour demands that every artist involved in the project take the leap of faith and wholeheartedly follow their curiosity down the rabbit hole to Wonderland. And I'm so glad they did.
Wheeldon wanted to combine traditional crafts with the latest digital innovations in projection and backdrop. With Carroll's well-loved writings as its foundation, this pairing makes for a work that both holds onto Victorian whimsy and blows away the cobwebs with a breath of fresh, 21st-century air. This world is immersive in every possible sense. Bob Crowley's innovative costume designs, set pieces and backdrops become interactive; corridors and doors grow, shrink, and trap our protagonist – literally swallowing her up in some cases. They allow her to interact with her shadow, swim in her tears, and cross into other dimensions.
"This world is immersive in every possible sense."
Often the staging draws our focus into one small spot only to burst the whole stage wide open again with an expansive, sweeping change of scenery. This tactic leaves us just as curious and full of wonder as Alice herself, never knowing what will come next or what is, quite literally, waiting in the wings. Puppets are also central to this production; Alice is a marionette as she falls into Wonderland, the Duchess' baby is a terrifying, writhing hand puppet, and the croquet mallet-flamingos have an impressive range of motion, pairing seamlessly with the beautifully costumed dancer-flamingo counterparts. But the show-stopping puppet is the Cheshire Cat, whose disjointed, floating limbs impressively convey a distinctly feline range of motion, particularly in the tail and head.
In every traditional story ballet there is a designated time for some carefully choreographed fun. But in Wheeldon's Alice, there is constant silliness and mischief. He pays homage to traditional choreography, then playfully bends an arm or a leg. He allows Alice, a teenager in this adaptation, to have real, human reactions. She pinches her nose and screws up her face while holding the March Hare's foot; she gives us a smug, gleeful grin at having briefly stolen the Mad Hatter's top hat; she pouts and stamps her foot as he appears at her side and extends his hand, silently asking for it back.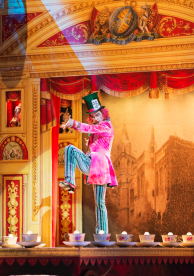 The Mad Hatter's tea party is a highlight of the show, with its clever staging that uses cakes as seats and trampolines, teacups as stage lights and giant teapots to throw people into. However, the best part of the scene is the playful back-and-forth between the Mad Hatter's tap dancing and Alice's dainty pointe work. The use of tap dancing in ballet is rare, but it makes perfect sense for the Mad Hatter. Portrayed by one of my favourite dancers, Steven McRae, the Mad Hatter steals every scene he is in. He cannot go unnoticed when every step he makes shifts the rhythm of the ballet – interacting with the score and quite literally dancing to his own beat, a bold move in comparison to the ballet's traditional silence.
However, it is the unhinged Queen of Hearts who provides the true comedy of the show. She dominates the space, filling it with her temper, her sharp, zany movements, and her wildly exaggerated costumes – particularly the dress/carriage that she is rolled around in by her servants. This is made all the more brilliant when we finally meet her in her court; the dress/carriage opens to reveal her comedically pathetic husband, the King of Hearts, sitting inside it, slumped at her feet as he reads a newspaper.
"[The Queen of Hearts] dominates the space, filling it with her temper, her sharp, zany movements, and her wildly exaggerated costumes ..."
One of the crown jewels of the ballet is the Queen of Hearts' Tart Adage – a hilarious reimagining of the Rose Adage danced by Princess Aurora and her suitors in Sleeping Beauty. The Rose Adage is one of the defining moments of any ballerina's career, and Joby Talbot's sublime score take cues from Tchaikovsky to make the allusion clear. The total dissonance of the gleefully formidable Queen's fall into the splits, bent-legged and flat-footed cartwheel, mid-air suspension over her card-servant like a vengeful fury, with her perfect execution of the most difficult steps of the traditional Rose Adage is, quite frankly, genius.
It takes the impressive skill of dancers like Zenaida Yanowksy and Laura Morera to make these choreographed japes – stuffing a tart in her mouth as she lowers herself into a deep arabesque, or the blatant kicking of her servant in the private parts (no, really) – look at home amidst the otherwise traditional choreography of this bombastic adage.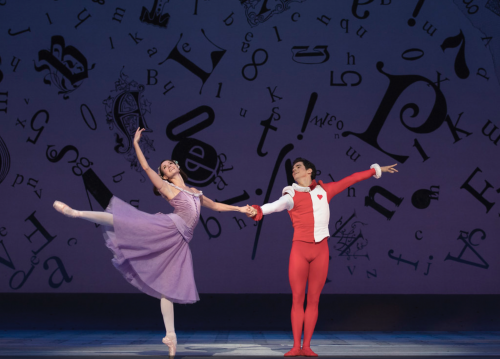 Wheeldon's adaptations to the story work well, giving us a romance between Alice and the Gardener's Boy/Knave of Hearts that we root for. The ballet doesn't forget that these are teenage lovers and balances their adventures through lively ensemble numbers, such as the Flower Waltz, with moments of charming intimacy and innocence. At one point, Alice endearingly slides on her pointe shoes into his arms like a young girl sliding down the hallway in her socks, and when the couple briefly form heart shapes with their arms in their final duet, it doesn't strike us as cliché.
"The ballet doesn't forget that these are teenage lovers and balances their adventures through lively ensemble numbers [...] with moments of charming intimacy and innocence."
Their encounters are moments of levity in a production that is heavy with props and big sets; their choreographic motifs show us that weightlessness of youthful infatuation. However, Wheeldon could have made some further changes to avoid slipping into the harmful stereotypes that surround the character of the Caterpillar – particularly given ballet's ongoing reckoning with Orientalism. The Caterpillar is explicitly described as 'exotic' in the programme, and while this fascination was typical of the Victorian period that the ballet is anchored in, do we need this kind of exoticism in what is already a fantasy land?
The Caterpillar's brief onstage moments are undoubtedly dazzling, and Fernando Montaño shines in the role, but we cannot ignore these issues. 'Final Bow for Yellowface' is an initiative that is beginning to tackle such representations. Interestingly, Wheeldon himself signed their petition, along with the Royal Ballet's Artistic Director, Kevin O'Hare. Who knows what this means for the future of the Caterpillar's role in future revivals of the ballet, but it is certainly telling that it has not been performed by the Royal Ballet since 2017. When it returns to their stage, I hope it will look a little different.
Nonetheless, I would encourage you to watch this delight of a ballet, but perhaps, as with everything, to do so with open eyes. We can never get too comfortable, even with old stories like this that we know and love. Now, down the rabbit hole you go. Don't be late.
Varsity is the independent newspaper for the University of Cambridge, established in its current form in 1947. In order to maintain our editorial independence, our print newspaper and news website receives no funding from the University of Cambridge or its constituent Colleges.
We are therefore almost entirely reliant on advertising for funding and we expect to have a tough few months and years ahead.
In spite of this situation, we are going to look at inventive ways to look at serving our readership with digital content and of course in print too!
Therefore we are asking our readers, if they wish, to make a donation from as little as £1, to help with our running costs. Many thanks, we hope you can help!