Shakers: Re-stirred review
A vivid and witty examination of 1980s Yorkshire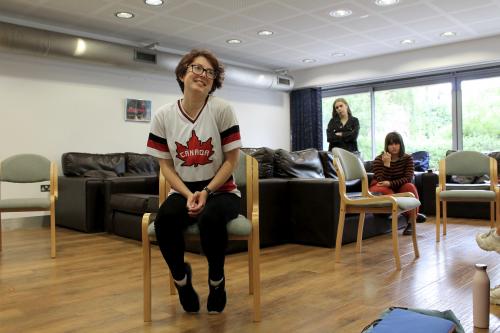 Welcome to Shakers, the cocktail bar where yuppies and wannabes mix with businessmen and country club women, where tensions and emotions are stirred up and spat out as reality grates against the glamour. Shakers: Re-stirred is John Godber and Jane Thornton's play about the daily drudge of waitressing while dealing with condescension from all kinds of people, even those you work with. Carol (Harriet Wilton), Adele (Meg Coslett), Nicky (Olivia Railton), and Mel (Lydia Clay-White) are the faces of Shakers, and they are tired of what they have to put up with as part of the job. This is 1985 in Yorkshire: class and gender distinctions are sharply felt and openly exploited. Some things may have changed, but being a barmaid I can attest that the satire of Shakers remains close to its mark. Of course, you don't have to have worked at a bar to recognise the types being caricatured here, and there is plenty of humour in the tonal shifts between customers and wearied waitresses, all played by the cast of four.
"We are invited to laugh at or with a cross-section of society and notice the flaws behind the facades, but the overriding effect is levelling"
Shakers is an ensemble piece; all the actors have a fairly even share of the lines, which are often quick on one another's cues and sonically dense. Diction was good, as were the Yorkshire accents of the waitresses and the range of different characterisations achieved through changes in voice and physicality. There were only a few rough edges – a couple of stumbled lines, though all well recovered, and occasional miscommunication about exact locations of objects of group attention – but these were easily forgivable, as they didn't affect the show. No actor stood out from the others, as all performances were strong, and in fact it was the interactions between the cast which were the best moments of the production. A particular highlight was the juxtaposition between the classes of couples dining at Shakers, as Harriet Wilton played two very different but equally ignorant men and Lydia Clay-White portrayed their similarly unpleasant partners – even the cast had to hold back the laughter, which the audience definitely did not!
With so many amusing snapshots of the bar's varied clientele, it was a shame that the central characters were the least entertaining. I think this is partially a script issue – I felt that their stories were sketched out but not fully developed – which cannot be held against this team. However, the serious side of the play in these scenes lacked gravity; I sympathised with the waitresses, but never became fully invested in their storylines. Resulting tensions between them were therefore not as momentous as they might have been. The cast's more friendly dynamic worked better when they were playing the supermarket cashiers, a gaggle of Yorkshire-women getting ready for (and then going on) a night out for a birthday. These were delightfully sincere but hypocritical working-class women, with plenty of concerns about being judged but absolutely none about judging others. I'm from the other side of the Pennines to Shakers, but these characters reminded me of my Northern mother and aunt at their cluckiest, and I promise that's a good thing: warm, uninhibited, fun.
This is the essence of Shakers; we are invited to laugh at or with a cross-section of society and notice the flaws behind the facades, but the overriding effect is levelling: nobody is immune to the irony. By turning the playroom into a bar, and inviting the audience to order from it, that extends to us too. The set (designed by Ross Guinea-McIntyre and Flora Macangus) is well considered and feels like an actual bar. There are tables and chairs, high stools, posters on the walls and chalkboard menus – all of which would have been enough – but it is the attention to detail which is so effective: the fairy lights, the 'Toilets' and 'Staff only' signs, the cocktail chalkboard (reminiscent of ADC's own weekly artworks) and the mixology paraphernalia on, of course, the specially constructed bar. The pop-up bar has certainly been a point of promotion for Shakers, and I am pleased to say it did not disappoint. In an ideal world there would have been ice, but in Corpus Playroom a G&T from an on-stage bar is enough of a novelty that I can't justify being that picky. Of course, such a gimmick relies on audience participation, but when successful it really pays off.  
If you do go see this play – and you should – grab a drink from the bar and expect an entertaining examination of 1980s Yorkshire through the eyes of the long-suffering staff. Shakers has been thoughtfully directed and produced by Georgina Deri and Rebecca Mayer and their team, with a strong cast serving up the witty writing and vivid characterisations brilliantly.