Ken Cheng Does Some Stand-up preview
A comedy about scrapbooking and racism… "white people's two favourite hobbies"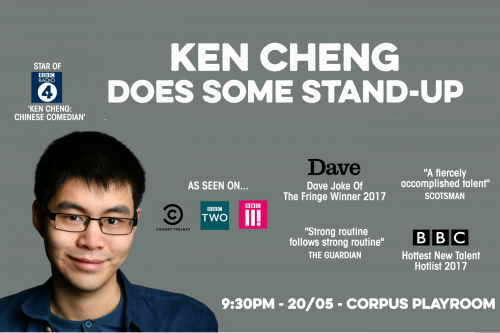 Ken Cheng, a former student of St. John's College, Cambridge, has come back to the Corpus Playroom to showcase his new stand-up comedy show, "To All the Racists I've Blocked Before", before taking it to the Edinburgh Fringe this summer. He talks to me about the show, as well as his time in the Cambridge comedy scene.
Ken is British-born Chinese, and this show focuses heavily on the racism he has experienced throughout his life, retelling the stories case by case. The show's title is clearly a reference to social media, especially Twitter, where he has experienced racism first-hand, but this is just a springboard for the numerous hilarious stories he has on the subject. He enjoyed trawling back through his Twitter history to find as many racist remarks as he could, and as a result coming up with what he calls a "scrapbook of racism": "I've combined scrapbooking and racism, which are like white people's two favourite hobbies." I asked him for an example of the kind of racist behaviour he has come across in the past, and what to expect in the show:
"Oh boy, which to pick from? Earlier this year I had just done a gig and an audience member came up to me and went 'Is it okay if I say something mildly racist towards you right now?' And my stuff is all about race and I was like 'Did you not like learn anything from that?!'"
"He enjoyed trawling back through his Twitter history to find as many racist remarks as he could"
Before dropping out of university to become a professional poker player, Ken was heavily involved with the Cambridge Footlights, as his impressive stack of Camdram credits will attest. This is on top of his listings as comedian, writer, and producer for many other productions, as well as one-man shows of his own. He has gone on to appear in his own show on BBC Radio 4, as well as making TV appearances on E4 and the BBC. In 2017 he was awarded the Funniest Joke at the Fringe award for this one-liner, beating out competition from big names like Frankie Boyle, Ed Byrne and Tim Vine: "I'm not a fan of the new pound coin, but then again, I hate all change."
He describes Cambridge as "one of the best places anywhere to do comedy", due to the supportive and reactive audiences; he encourages anyone who wants to get involved to jump right in and do it. As a veteran of the comedy scene, he has some advice for any Cambridge students wanting to give it a shot:
"Go to a gig and get a sense of it first. Comedy is such an instinctive thing in general and sometimes you can overthink it when really if you're funny you should just trust your instincts and sign up and go for it. There's also a great support network of comedians here who really want you to succeed and they'll always be around to give you advice."
Ken will be performing in Corpus Playroom on Monday 20th May at 9:30pm, and if you miss what is set to be an entertaining night of laughs at racists' expense, his show will be making its way to the Edinburgh Fringe from 31st July to 25th August in the Bedlam Theatre.