Party Trick review
An entertaining if slightly chaotic party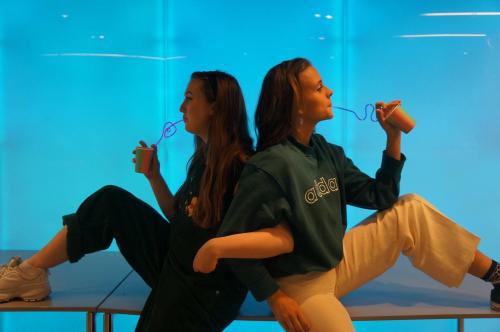 Party Trick is an enthusiastically performed, entertaining sketch show centered around the festive theme of – guess what! – parties. Sometimes, we find ourselves at a classic student bop (or afterwards at the cash machine), sometimes the venue is a bit less familiar, or remains slightly unclear. The opening set, elegantly performed by Arthur Roadnight, depicts a young man who has never been to a party and wonders what it would be like, clearly expecting a lot and leaving the audience with equal expectations.
"All cast members displayed strong stage presence, projecting their individual parts effectively and with infectious energy."
In part, these expectations were fulfilled. The show features some very strong sketches. The moment any grandmother starts telling you about past birthdays will never be the same again after you have seen Party Trick! At the strongest moments in the show, there is either one person on stage, or more than two. The solo performances are without exception highly entertaining and original, and the group sketches provide some sharply timed and satisfying jokes. The performers are clearly enjoying themselves when these sketches get going and this joy is as contagious as the atmosphere in a good crowd of partying people.
At some points however, the party vibe seems to drop off a bit, especially in sketches that are mainly based on dialogue. The joke density in scenes where two performers are in conversation with each other is sometimes not quite high enough in order to carry the length of the sketch. This is mainly due to the script, as all members of the cast are clearly highly skilled and absolutely giving it their all. The dialogue-based sketches are often constructed in such a way that there is little actual communication in the scene (everyone just says what they have to say, or reacts in ways that seem somewhat artificial), which prevents the audience from really becoming engaged.
It must be said, though, that these sketches only really stood out as unsatisfactory because they contrasted with the overall high quality of the show. The only other slight dimmer on the party atmosphere is that the order of the sketches is somewhat chaotic and seems arbitrary. The beginning and the end are very clear and create a nice narrative circle, but in between it goes a bit back and forth. This creates slight gaps in the framework of the piece, which could be improved in order to make the collection of different sketches appear more coherent as a whole.
In terms of performance, there is little that fails. All cast members displayed strong stage presence, projecting their individual parts effectively and with infectious energy. The scene changes were smooth and the physical comedy bits were skilfully performed, showing great theatrical competence and knowledge of what works well on stage visually. Overall, Party Trick entertains as a good party should, a party which will leave you in a cheerful mood, with a set of pleasant yet slightly incoherent memories, and refreshed to take on whatever tomorrow may bring.