Gail Summerfield review
A charmingly self-obsessed performance about an eccentric agony aunt from Milton Keynes: expect advice, anecdotes and amusement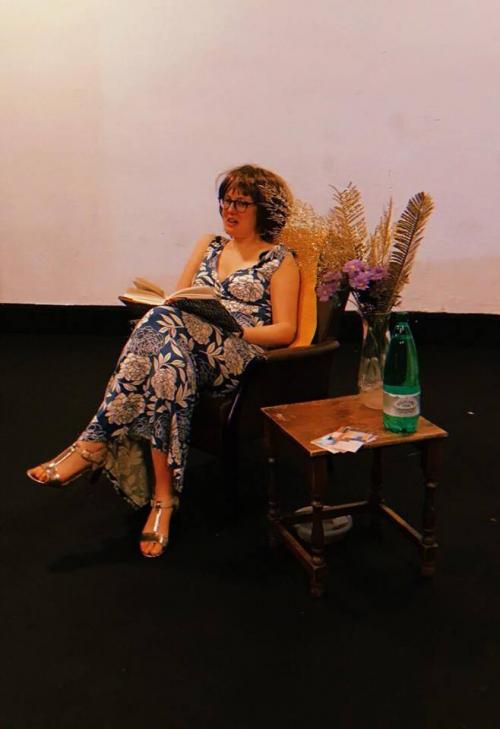 As I walked into Corpus Playroom to the sound of 'Girls just wanna have fun' to see Gail Summerfield, I had no firm ideas of what to expect from this "fun, bubbly and industrial" agony-aunt figure. The preview painted her as an easy-going, free-thinking character who would give us a very "real" account of her life, her problems and her opinions – and she certainly did. From the start we are met with conversational, informal and witty anecdotes all about Gail – the enticing and eclectic agony aunt from Milton Keynes who will answer all the questions you didn't know you had. The clash of personalities of mumsy cat-lady and quirky and vibrant 47-year-old relationship guru is emphasised by the set that she so seamlessly fits into and further added to with outfits ranging from a little desperate to utterly elegant. From the cat cushion on the armchair to the well-thought-out and utilised props on the coffee table – including her much referred-to autobiography – Gail Summerfield becomes a reality in our lives for 90 minutes.
"Her never-ending monologue ranges from meaningful questions of chivalry to her 17 different pairs of flipflops"
Charmingly self-obsessed, Gail talks as much about herself as she does give advice, but the depth of her character is such that we forget she is just a persona and relax into a group therapy session with our favourite agony aunt. Though her advice may be questionable, it is never far off the mark, albeit delivered in a verbose and roundabout way with the focus always coming back to her splendidly strange anecdotes – trust me; you haven't met a politer crime enabler until now! We can't help but love Gail and her never-ending monologue that ranges from meaningful questions of chivalry to her 17 different pairs of flipflops all in one sentence. Her light-hearted approach to life is refreshingly upbeat and just what you didn't realise you needed halfway through Lent Term.
Never afraid to say "just a little more", Gail gives candid advice on Sex & Relationships, Fashion, Food and more, answering all the important questions in life accompanied by a scattering of endearing and witty malapropisms. She approaches the mortal coil with a 'que será será' attitude and an enduring wit that is neither excessive nor contrived. It was fluid, quick off the tongue and as natural as if we really were sitting in Aunty G's "safe space". The costume changes, punctuated by a two half-dressed, dickie-bow-sporting, "saucy specimens" were seamless – most of the time. And those that weren't only served to highlight the natural skill of Emmeline Downie in maintaining her character as Gail Summerfield throughout.
Though the choice of these expressive dancers was a bit unconnected to the trajectory of the show at times, they served well as Gail's sidekicks and smoothly upheld the transitions, adding another dimension to the show that again was unexpected, if a bit random. They, and the diverse music ranging from Cyndi Lauper to Andrea Bocelli exemplified the clash of characteristics inherent in Gail's personality and framed the comedic narrative in an appropriate fashion. At times, the autobiography readings dragged a bit, and though they portrayed her narcissistic side, they lacked the constant stream of consciousness that was so great about her character. Nevertheless, they separated the action, and allowed Gail's more natural dialogue to be delivered with a confident ease and flair. It was not just the punchlines of her sometimes overtly risqué comments but her effortless delivery and unapologetic mannerisms that really got us laughing and engaging with her.  
I urge you to go see this show if you want to forget about the serious things in life and get answers to the more important questions such as whether you suit a hat, if you can be a cutlery genius and some frank and honest relationship advice that honestly couldn't be better.