Dead Parents Society preview
"Remember, you're not alone. We're all grieving something." Dead Parents Society is a moving, humorous, and ultimately uplifting look into grief, writes Katy Bennett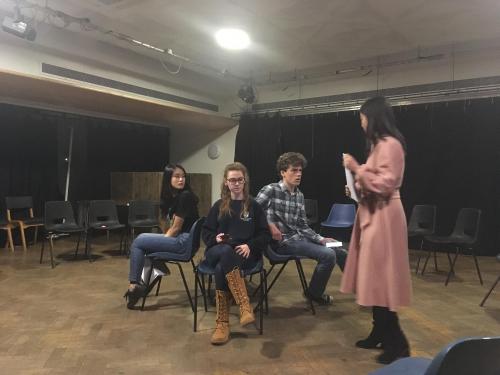 "Grief is such a common and timeless experience", director Shilin Chen tells me, as I sit in on the first full run-through of Dead Parents Society, explaining her hopes that the story will come across as universally relatable. The play centres on a grief-counselling group, led by Todd, the UCS-employed facilitator, and four students: Lily, Emily, Sam, and James, each of whom have lost a parent. It is based on writer Finty Hunter's personal experience of going to group therapy after her dad died during her first year at Cambridge – some of the characters' anecdotes are even directly lifted out of her own life, and she wrote the play in one sitting on the train home from the Edinburgh Fringe.
"Watching the play is a highly immersive experience, with the seats spread out in a circle to echo the counselling group."
Dead Parents Society deals with heavy subjects – parental death, but also rape, suicide and depression – all undercut by Hunter's dark sense of humour, which provides a refreshing foil in moments of emotional intensity. Hunter and Chen previously worked together on a ten-minute version of the play, which debuted at the Marlowe Society's Hatch in November 2018, but this is the first time the writer will see a full-length version performed. She tells me that working on the short version in November and speaking to the cast gave her ideas for how to further flesh out the characters – adding that she has spent so much time with them now that she feels genuinely invested in their lives.
"I guess you could say they are all are extensions of me", Hunter tells me, going on to say that she thinks each character, to some extent, represents a different way of dealing with grief. Lily comes across as the most open by far, leading the group discussions, but a complex and confusing mix of emotions come out of all of the characters, from anger and guilt to loneliness and apathy. Meanwhile, Todd is the textbook over-eager counsellor – interjecting with 'But what do you mean by [fine/crazy/normal]?' every time one of the students gets half a chance to express their emotions. Alongside this, the theme emerges of being split between two worlds, between university and home, and what it means to grieve in this context, with Emily saying in a monologue that "I just want to go home, but home isn't home anymore."
This is set to be an intensely character-driven performance, and it is hard not to become invested in the characters even in rehearsal. Watching the play is a highly immersive experience, with the seats spread out in a circle to echo the counselling group. This is heightened as the action switches between the group counselling sessions and the characters' internal monologues – which aims to give the audience the experience of being on the outside looking in, and then suddenly and immediately on the inside as the characters grapple with their emotions. Chen tells me that she wants to make sure there is a clear balance between the realism of the group sessions and the intensity of the monologues – shifts in lighting, tone, and movement will all augment the experience.
With under two weeks to rehearse, the performances feel deeply authentic, as the characters stumble through their grief. The rehearsal is collaborative from the outset, with the actors at one point joking that they are directing themselves – with Chen and Hunter enthusiastically encouraging this experimentation. Victoria Zanotto and Olivia Sydney Mills, who play Sam and Lily respectively, add that being part of this play has given them the chance to think about grief from a different perspective. "I've never been through something like this before," says Zanotto, while Mills adds that this has given her a different perspective on her own experience working as an end-of-life carer.
What Dead Parents Society aims to portray is that, above all, grief is not simple – it is not 'one size fits all', nor does it have a clear beginning or an end. It is evident from the rehearsals that neither the actors or characters have been forced into neat boxes, but allowed to be human – with all the confusion and untidiness that that entails. Because of this, the play is at once moving and light-hearted, heart-wrenching and uplifting, and an ultimately nuanced and compelling portrayal of grief.