The Last of the Hausmanns review
A charming and engaging portrayal of a family reunited, complete with slick tech and a brilliant soundtrack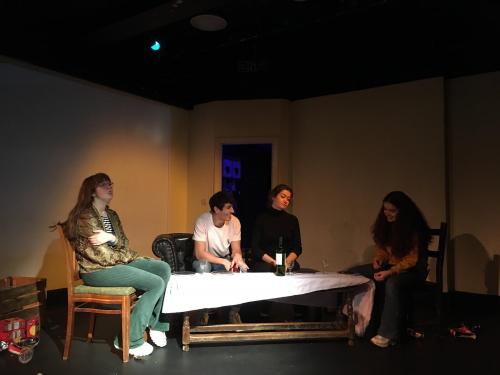 Michaelmas Week 6 brings what we've all been waiting for: a new round of Freshers' plays and a new batch of talented actors, inspired directors, and skilful technicians. 'The Last of the Hausmanns' was a delight to watch: not perfect, but with an energy and a range of emotion of which the cast and directors should be really proud.
Flora Macangus as Libby was ethereal, playing the part of the rousing older sister with a maturity that engage the audience, and displaying a layering of emotion that is clearly the result of careful thinking around and interpretation of her character. Her grounded sense of responsibility nicely complemented Alex Parton's Nick, nervous and fragile and yet with a youthful hopefulness. He has love in his eyes, but the world is weighing him down, and Parton managed this vulnerable courageousness with a wonderful control.
What the play lacked, I felt, was silence. By this I mean the silences that are so essential to the Corpus stage and can be so beautiful in this intimate space, when you can hear the audience's every breath. There were not enough pauses, I felt, and the effect was to diminish the emotion of some moments which the actors could have strung out to really make the audience watch. There were a couple of wonderful moments of silence, however, in both scenes between Daniel and Libby. Daniel, played by Jesper Eriksson, stayed quiet for most of his first appearances, speaking only the odd line or giving the occasional nod, but his acting in these final scenes had a new intensity of emotion. He delivered his lines with a wonderful control: not too naively emotional, but not too plainly harsh, either. He captured perfectly the confused admiration of a boy in love with an older woman who then grows up, moves on, and accepts what happened as some romantic past which he will never forget.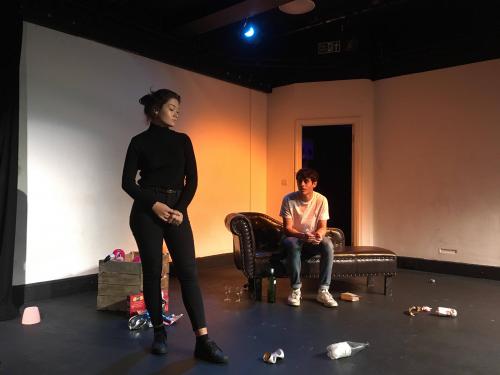 The direction throughout the play could have been a little bolder, a little more confident (Corpus corner felt under-used, perhaps), but there were a number of lovely moments. The final argument in particular springs to mind, choreographed with a dynamism that creates a sense of the explosion of emotion which has been building for so long, but with the mother on the sofa as a still, quiet point at the centre of all this noise. The table neatly laid for dinner becomes the middle of a battleground, a boxing ring around which the characters circle as they let loose everything they have wanted to say to each other but have never quite said.
"there is a poignance and a closeness in their relationship which Macangus and Gold capture with superb subtlety"
This argument was generally very nicely executed. I felt that Ella Gold (playing Summer) came into her own in this scene when she pummelled her mother with explicit insults, channelling feelings of betrayal and hurt, but also of complete despair. She wants her mother to be who she wants her to be, and she cannot understand why she does not live up to that. When she returns in the next scene we see a newly mature Summer, one who wants what is best for both of them and realises what she has to do to achieve this.
There are a number of touching moments between mother and daughter, even in this most dysfunctional of relationships. Earlier in the play, particularly, when Summer leans her head on her mother's shoulder as they discuss fathers on the sofa, the audience are reminded that they are, after all, mother and daughter, and that they have been through some hard things together. There is a poignance and a closeness in their relationship which Macangus and Gold capture with superb subtlety.
The tech in this production is slick. The music has been tastefully chosen so that it doesn't overpower the scenes but complements them nicely, and timed to perfection so that the actors' words and movements seem to be in tune and in time with the music and there are no hideous jolts at the beginning and end of each clip. The set, although charmingly organised, was perhaps a little noisy, as the rubbish and bottles on the floor created noise throughout the scenes (as did the bracelets worn by the characters): while the audience can of course overlook these small noises a certain number of times, I felt that after a while they became distracting, and the set would have benefitted from a less fragile and moveable design.
'The Last of the Hausmanns' is a play which demands a huge emotional range, from the tension of returning home to intense love to anger when everyone finds out about this love to the charm of sibling fondness. The cast of this production, however, managed to pull it off. There were moments to be worked on, and there could have been more silence, but the audience could not help but smile as Libby runs off talking about mops and boxes, with a new spring in her step and a decision to move on from the petty plot of who will have the house and what they have done with their lives so far – and now actually do something.