The Senate comes crumbling down
Sometimes we have to say 'et tu' to our own ambitions in putting on a show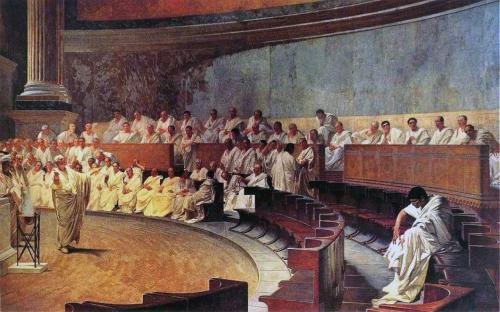 When the core cast quit they explained, "it wouldn't be fair to put it on, for the actors and most importantly, for you". Hopefully, you'll believe their words that, "putting it on at its current schedule would do a serious injustice".
Originally, the dark political satire featured 16 cast members who would remain on stage throughout, replicating a Roman Senate. Demagoguery, illegitimate voting, assassinations, ideological polarisation, and a false sense of populist achievement made the setting of 59 BC an attractive allegory for the political theatrics of contemporary politics.
In Lent term of 2018, I was privileged enough to be given the greenlight for two plays, both self-written. On paper, the scheduling all seemed to pan out well. I had enough time from week 3 to run auditions and begin a three-week run. Our estimated performance was week 6/7.
It was a bold undertaking to try and write a clever bit of satire with some nuanced political commentary. To then direct an accurate representation of an ancient and obscure political conspiracy seemed near impossible. It seemed impossible because it was impossible, if you hadn't guessed already.
At the time, I was still very confident as the rather hefty script was written surprisingly quickly. Hours had been spent researching the context of 59 BC's 'Lucius Vettius affair' and developing a broad cast of characters that would be able to entertain and interact in any ad-lib combination. I had already developed a skeleton framework for the script and felt like I was just connecting the dots with extra dialogue and stage directions.
This meant I was at the centre of a production that required 16 people for every rehearsal, with only two weeks to prepare.
Clear problems arose during the time of the auditions. With few auditionees compared to the number of parts, I still managed to cast a very suitable and capable group of actors. Unfortunately, there were already two drop-outs before rehearsals began. The sheer availability required to have nearly everyone present was clearly quite daunting. At this time, I was notified by our theatrical society that the college's venue availability had been pushed back to Week 5. This meant I was at the centre of a production that required 16 people for every rehearsal, with only two weeks to prepare.
The cast was very eager to work together. Large parts of the script had been finalised and were ready for them to learn and embellish, with improvisation or ad-libs. In retrospect, it was unfair to expect them to learn lines and entire characters in such a short timeframe. Character workshops were put together without me - I couldn't be in sixteen places at once. The premise's political factions made it easier to group actors for discussion but there was never going to be enough time to develop the dearly needed chemistry across the whole cast.
Maybe it would have felt a bit better to blame someone or something, but it just felt a bit hollow.
Rehearsal began to become disrupted, availabilities dwindled, and a character was recast, again. By this time, I had already spent a chunk of my own money on costuming, surveyed our venue, and opened ticketing. The remaining actors were working hard, the costumes were historically suitable, and my production team was behind me the entire way. As my own workload began to increase, I looked to giving the cast members a space to run lines; only five people could make it. Even I was busy.
This was the end of The Senate.  There just was not enough time. It was no one's fault really. Maybe it would have felt a bit better to blame someone or something, but it just felt a bit hollow. I certainly felt guilty about it all until I spoke to the whole cast. To be told it was a, "good play and Alfred's almost killed himself getting it done", made me reflect on what an amazing collective had formed. A few of us went out for a pint – not everyone could make it, you see.
I gained an incredible amount from this production. This was not limited to directorial skills or scripting but simple things like people skills. Nothing compares to delegating and organising a schedule to fit between about twenty Cambridge students. Crisis management was another thing – having to keep on a brave face when it was abundantly clear that it was all going downhill. But that was the bittersweet ending to it all – the fact everyone could see it really was quite hard for me. Somewhere in that mix of admiration and pity was a mutual respect – enough for offers of a rescheduling of the show.
I don't know if The Senate will ever be performed. I have been asked a fair few times about it and I reckon it would probably be better off in a different format. Maybe something other than on a stage. I'm not sure if, in Cambridge, it would ever actually get funding again – especially after this read.
Going back to look at the script was a good laugh. The lens of retrospect gives us the privilege of laughing at our failures and reliving our achievements. If the show really was a failure then at least it was funny.