Ken Cheng talks Toblerones and young talent at the Fringe
The former Cambridge mathmo, and 2017 winner of Dave Funniest Joke of the Fringe, sits down with Oliver Rhodes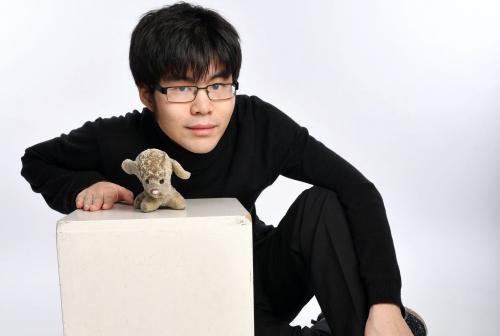 The backroom at the Bedlam Theatre is stuffed full of furniture and flyers, but we manage to wrench out a couple of chairs from underneath the desk. It's a creative mess: stacks of coloured posters curling at the edges, a slightly askew shot of a performer framed on the wall – the inventory of a comedian's mind, perhaps.
Ken Cheng seems comfortable in these surroundings, reclining in his chair in a hoodie and jeans, one leg crossed over the other. He hasn't always been so comfortable, however. "I've always found myself unable to pigeonhole myself into a category," he says. "It's hard to pinpoint where my jokes actually come from, what really pulls them together."
Nor is the topic of his show particularly comfortable. Best Dad Ever begins with a mystery. "I once found a Toblerone with the words 'Best Dad Ever' written on it. Obviously I have a few issues with this. But the biggest problem is not the phrase nor the vessel. It's where I found it: I found it in my own Dad's room." So goes the synopsis.
This trivial conundrum forms the premise for a comic excavation of Cheng's family and childhood. It's a deeply sentimental story, nostalgic for clunky homemade sci-fi stories and stuffed toys. "I did this show in Cambridge a year and a half ago, only three months after the story for the show came about," he says. "A lot of it's true but I rearranged a few things for artistic licence … but the Toblerone, that was all there!"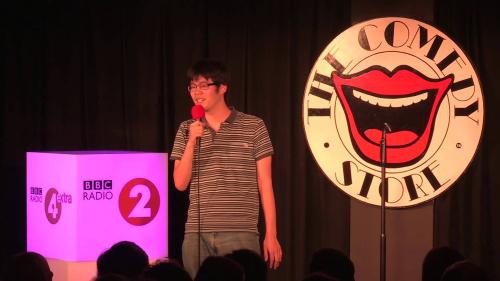 Most will know Cheng for his new-pound-coin gag, which won the annual Dave Funniest Joke of the Fringe award last year. It's the sort of joke that is funniest when Cheng himself says it: there is a particular deadpan dryness to Cheng's delivery which has become his signature. I ask him if the award marked a turning point for him. "I don't think so. It did give a boost at the time. People started asking, 'Who is this guy?' and it allowed me to tell my story at the time."
Nonetheless, I cannot imagine his current schedule would have been the same without it. Cheng featured on BBC Radio Four's The Comedy Club in June, and is set to co-host The Hangover Games, a TV game-show which sets contestants physical and mental challenges the morning after a bender. "The best part is that contestants are tricked into doing it. They sign up to a fake show called 'Britain's Best Night Out', then 8 a.m. comes along and the camera crew comes knocking on the door."
Cheng managed to nab a ninety-seater venue at the Bedlam for this year's show, right in the middle of Edinburgh. Last year's was fifty. I get the impression it's been a whirlwind.
Cambridge is his hometown and would also have been his alma mater had he graduated. Instead he dropped out after a year studying maths to play professional poker. "I was struggling a lot. I got a third at the end of my first year. Even that was lucky because I just didn't understand any of it." This was despite achieving full marks in most of his A level exams. "I just hate the Cambridge system, especially for maths."
Ken Cheng performing his show Chinese Comedian at the 2017 Edinburgh FringeChortleUK
For him, the six-day lecture schedules were "disgusting" and the professors uninspiring. "They just enjoy being at university I think." It was a tough decision to leave, especially given his parents' aspirations for him. "Cambridge is a hard place to walk away from."
It was only later that he decided to put poker aside to pursue comedy. He started performing stand-up in 2010 at college smokers before delving into sketch-comedy. He directed the Footlights International Tour Show, Love Handles, in 2015. "It's a great place to start because you can perform to over a hundred audience members who are all very engaged and educated, and understand the same pop culture references."
Yet there must be a million alternate realities in which Cheng is not sitting before me. "I just happened to turn up to a gig and get interested in it. I was very shy as a kid but now I can't imagine doing anything else. It completely changed me as a person." He says he wasn't even aware of the Cambridge theatre scene before university, despite growing up in Cambridge: "most [Cambridge-dwellers] don't even know what the Footlights is". Firmly occupying one side of the town-gown divide, my surprise at this is perhaps ironic.
"I just happened to turn up to a gig and get interested in it. I was very shy as a kid but now I can't imagine doing anything else."
As with many successful comedians, Cheng is a misfit who has found comfort and comedy in his own skin. Along with his estranged father, for example, he deals with the stereotype that all Chinese students are great at maths. The most annoying part for him, he says, is that it's true. He really is great at maths. When it comes to race, as he says in his show, "you have to pick your battles" – there's always space for subversion. "It does help in a way because if you are a white comedian or, let's say, you have a commonplace background, it's quite hard to come up with experiences worth talking about."
Of course, this hasn't stopped names such as James Acaster or Daniel Sloss from topping billboards across the country. But Cheng really comes alive telling me how the narratives are changing. He argues that for female comics too, "this is their time". He excitedly lists a few up-and-comers, including Maisie Adam, the fourth woman to have won the prestigious So You Think You're Funny? competition in thirty years.
Frankie Boyle and Jimmy Carr, who are scarcely 'Old Guard' by any measure, are a far-cry from this younger generation, of which Cheng is a part. "New people are coming into comedy now – that's why diversity is great – it brings in different audiences who otherwise would have been turned off." For example, Sloss' latest show takes his audience through an unsettling account of his experience with victims, and perpetrators, of sexual assault. The more grounded tone of this year's Fringe provides an important context for Cheng's story-telling style, replete as it is with moments of vulnerability as well as side-splitting laughter.
But recent success has not made stand-up any less difficult for him. The Fringe is getting more expensive for performers through increasing rents and the need for a hyper-vigilant marketing campaign. Comedians can expect to lose between three and five grand on an Edinburgh run, he claims. There's also the problem of size. "It's kind of the worst place to see comedy. Here's the problem: a lot of audiences are seeing four or five shows in a day, so they're tired, they rush, they're not necessarily the best audiences."
Indeed, despite the strains on performers and audiences alike, Cheng warns against conformity. One of the challenges, especially for Cambridge stand-ups, is to find their own voice. "Cambridge is a massive bubble and it's easy to get trapped into that bubble, into what's funny at Cambridge, and get trapped into those friendship groups and the same audiences." For aspiring stand-ups, exposure to different styles and perspectives is his best advice.
Cheng has approached the comedy scene from his own angle, and is good at wearing his flaws on his sleeve. He tells me of a show in which he forgot to do the set-up for a defence of Hitler, and spent the rest of the show in frantic self-deprecation. "It's weird because that show was the best-reviewed show!" Despite his formidable ascent of the national comedy ladder, I sense that he remains grounded: aware, perhaps, that while success wavers, integrity does not. Ken Cheng may not be able to define himself just yet. But maybe that's his whole point.