Manhunt review
This character-driven sketch based on the difficulties of finding love is not one to be missed!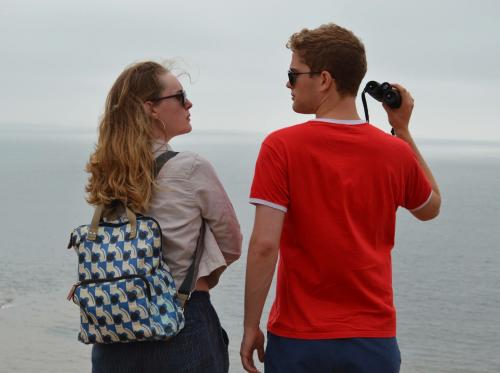 Emm and Leo are both on the hunt for the perfect man. They are young, witty and have interests just like any other – cats, chicken nugget shareboxes for one – how hard can it be? Their comic sketches explore the trials and pitfalls of the modern dating scene and throughout the course of the show, it becomes increasingly obvious why they are still single: any potential punters have most likely been intimidated by their abundant talent.
"Emm and Leo are a seamless double act who have no trouble keeping their audience in stitches."
The Fringe is teeming with comedy acts - the good, the bad, the shockingly awful – but this duo are undoubtedly a must-see. Boasting an impressive range of accents, all of which are somehow woven into the show, Emm and Leo are a seamless double act who have no trouble keeping their audience in stitches. Nothing escapes their ruthless parody: clichéd rom coms, North London yummy mummies and the creators of Tinder are all subjected to their hilarious dissection. So much more than 'relatable content' for the youth, this humorous social commentary has the capacity to resonate with a wide adult audience.
Leo Reich is irrepressibly exuberant and magnetic. He is plagued, like the rest of us, with the tendency to spout nonsense during romantic interactions but he retains a boundlessly charismatic stage presence. He bemoans the difficulty of finding someone who fits his very straightforward (yet extravagantly ambitious) criteria and, most notably, laments the unattainability of the metrosexual man – he who catches us out by being straight but, misleadingly, 'not aggressively dull'. His rendition of a song about one-night-stands is a particular highlight, featuring some ingenious – albeit slightly crude – puns which are quite frankly 'insanal'. If comedy doesn't work out, which seems unlikely considering the apparent success of this show, Leo could certainly salvage a career in musical theatre.
"Emm's incisive wit and shameless self-deprecation are endlessly amusing."
Emmeline Downie is charmingly awkward, with a spectacular arsenal of comic facial expressions. She is sceptical about missing Midsomer Murders for dates, ensuring that her most intimate relationships are with the strangers that she has to call about discrepancies with her food deliveries. Emm's incisive wit and shameless self-deprecation are endlessly amusing, as she wryly satirises comments made about her appearance by her mother but also betrays the universal fear of feeling 'unfuckable'. Her admissions to Leo ensure that we receive a comprehensive education about the do's and don't's of online dating  (apparently, catfishing is deceptive and not particularly moral?) and misreading male signals.
The show lasts an hour, which passes swiftly as the pair completely monopolises the attention of the audience with a well-structured sequence of sketches. The set and main story arch are simple: old friends Leo and Emm bump into each other in a restaurant following respective date disasters and fall to discussing the difficulties of seeking a partner in the modern and technological age. The stage boasts nothing more than a café-style table and chairs which effectively accommodate the versatility of the performance, as the primary narrative is interspersed with various comic set-pieces. The show is also lent an almost cinematic quality by the slick deployment of spotlights and voice recordings, which facilitate the entertaining asides and exposure of inner dialogues. The range of impressions and variety of adopted characters are flawlessly navigated and immensely funny.
Enjoyment is guaranteed for this absolute triumph of a comedy show: Emm and Leo even hand out their numbers at the end, so if you're left completely enamoured then the fun doesn't have to stop when the performance ends (wink wink!). Sitting in the front row could ensure you a slice of interactive action – recommended, particularly if you're feeling lonely.  Regardless of relationship status, Manhunt has something for everyone. Your hunt for the perfect entertainment is over: swipe right on this show!