Reigen preview: 'if not a scandal, then certainly a resounding success'
This student translation of Schnitzler's 1903 drama will bring a very modern twist to the Edinburgh Fringe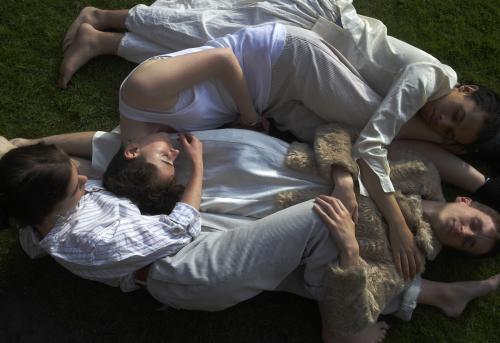 Ada Günther, translator and director of Reigen, has a passion and enthusiasm for the project which is difficult not to find infectious. The 1903 scandal play, detailing conversations between couples before and after sex, is on its way to the Edinburgh Fringe. There, Günther will be directing an ensemble cast of four, and heading an impressively comprehensive production team, including dramaturg, Gabriel Humphreys.
Costume Designer Georgia Humphreys is hand-sewing the costumes, which are designed to encourage free movement
Translating an entire play is no mean feat, and Günther tells me that, when she began it, she was not intending to have it performed. Rather, having grown up in Vienna, she wished to give her friends access to a play which is not only very famous in German-speaking countries, but which also has incredibly rich, and specifically Viennese, language. Finding the available translations inadequate, Günther sat down to do her own, often finding she would fly through a scene or two an evening. Eventually, having decided to stage the show, she consulted other translations in parallel, creating the script the actors are currently working with. Even so, the final work remains in a state of creative flux. Günther tells me, for example, about her struggles with contractions: too many I'ms, it's, and could'ves, and the play sounds too modern, too few, and it appears archaic. Adjusting this mix to the perfect balance is a process which will continue throughout the rehearsal period.
Rehearsals will begin with a week of ensemble building, focusing on movement and physicality. Costume Designer Georgia Humphreys is hand-sewing the costumes, which are designed to encourage free movement, while incorporating some period features. Günther highlights the importance of movement, explaining the centrality of physical interaction to the play, and her aim to incorporate physical theatre into the verbal conversations which make up the script. Indeed, the recalls for auditions consisted of a physical theatre workshop, and the cast were chosen not for their suitability to a particular part, but rather for their versatility. The four actors will be playing a total of nine or ten roles, and Günther still isn't sure who will be playing what. This freedom allows the team to play with switching around characters, gender bending some, or merging others.
Günther appears particularly enthusiastic about the gender bending element, telling me that Schnitzler's play was new and modern at the time, and this sense of newness and modernity can be taken into the 21st century. Queer and non-binary narratives are not what the play is about per se, but they are happening throughout. What is more, challenging the gender of the characters has allowed the team unexpected insights into their impulses, and has served, in some places, to heighten the emotional intensity.
Reigen, when it was first performed, was a scandalous play, which nonetheless encapsulated the spirit of Vienna. Günther has taken this Viennese whirl and brought it to Edinburgh, a city she has never visited before. There, it promises to be, if not a scandal, then certainly a resounding success.
Reigen is on Mon 13th August 2018 - Sat 18th August 2018, at theSpace @ Venue 45, Mon 20th August 2018 - Sat 25th August 2018, at theSpace @ Niddry St (Upper)