Rights of Passage preview: 'talent, grit and a good story'
Telling the stories of three real-life LGBT+ refugees, this show will bring emotional trauma and turmoil to the Edinburgh Fringe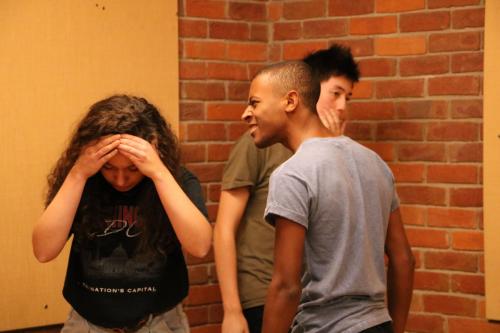 "There is an echo chamber in Cambridge, no one really goes to the theatre for the sake of challenging themselves," Director Sneha Lala says on why she has decided to take Rights of Passage to the Fringe, after a highly-successful home run in Cambridge last Michaelmas term. The play maps out the respective real-life stories of three LGBT+ refugees, Izzuddin, Hamed and Miremba. Faced with emotional trauma and turmoil after arriving in the UK to seek a better future, the play addresses their reasons for having to seek asylum and the human heart within it all – directly rallying against the increasingly popular anti-immigrant rhetoric rooted in contemporary British politics.
Clare Summerskill wrote Rights of Passage after an elaborate process of attending a variety of LGBT+ marches, meeting a range of individuals and befriending them in the process. Lala notes that Summerskill considered her subjects "friends as well as interviewees" and hence, wrote the play in "a sensitive way" – to give agency to those stripped of a voice.
These three individuals, like many others, arrived in the UK with high hopes involving tolerance and compassion, only to be trampled on by the system. The system of gaining asylum currently in place is anything but of help to vulnerable asylum seekers in need of a safe refuge – Lala believes it is "made to strip away all empathy". Empathy is thus channelled through this play, which Lala cites as her reason for choosing to stage it in Cambridge the first time. "These characters are not heard wherever they go, not accepted in any country, not believed," Lala continues, "I wanted a verbatim depiction of people's actual voices and their stories."
As the character of Izzuddin comes from my home country of Malaysia, I ask Lala how it feels for someone like Izzuddin to witness his story being shared on stage at this point in history, given the prevalent homophobia in Malaysia's populace. She mentions that Izzuddin was present at one of the Cambridge performances; he felt a sense of difficulty watching the intimacies of his life staged for all to witness. Like Izzuddin, Miremba and Hamed's narratives are part of the bigger, complex and intimate picture: political activism is at the very heart of this sincere production.
How does any of this make Rights of Passage one to watch at the Fringe? "It's important to hear people's stories from their own voices, and it is important now because we are reaching a time where we can make a difference." Lala and her passionate cast and crew are particularly enthusiastic about interacting with those who may not necessarily be pro-asylum seekers. The beauty of the Fringe involves interacting with a broad spectrum of people, from all walks of life, behind which lies a variety of narratives. Combined with the unadulterated energy and passion from the production and the mood set by the Fringe's environment, this production is going to touch hearts and shape minds. In fact, it encompasses everything the Fringe should be: talent, grit and a good story to tell. Topical and real, Rights of Passage is set to be a highlight.
Rights of Passage is on at the Edinburgh Fringe 20th-26th August at C too (Main house)