Wish List review: 'oscillation between pain and sudden beauty'
Sensitive subjects such as mental health and working-class life are approached smoothly and honestly in Katherine Soper's play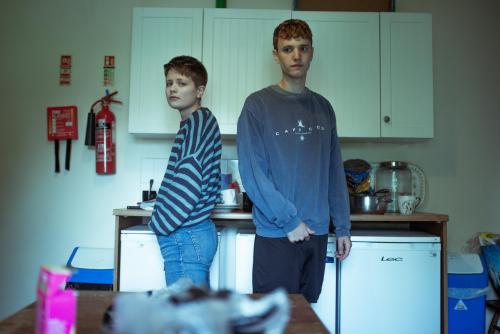 Wish List is a perfect example of a show carried by its script. The play by Katherine Soper, a Cambridge alumna, is so well written and poignant that it made me cry in its most unexpected moments: the simple interactions and intimate casual conversations that are so rarely put on stage because of how small they are. The staging works best is when it manages to echo this feeling of simplicity that catches you off-guard.
The actors cleverly navigated a small space designed to represent three different locations
Throughout the play, we follow the lives of four people who each seem to be stuck in an inescapable cycle: there is Dean, who is confined to his sister's apartment because of his obsessive compulsive rituals and self-imposed inhibitions which seem impossible to break. His sister, Tamsin, is forced to work on a zero-hour contract in a warehouse, packing boxes for hours on end to provide for them both. Luke, whom Tamsin meets at the warehouse, and their superior, who is never given a name, all represent different sides to this machine which from the very beginning seems to run smoothly and brutally, regardless of individual difficulties, motivations or needs.
The hopelessness of the health care and job system and of the capitalist hellhole that is the warehouse are all expertly constructed in the script, without being too showy. I really enjoyed the use of the diagonality of the space of the Corpus Playroom and the actors cleverly navigated a small space designed to represent three different locations. This compactness worked less well for the representation of packing boxes which reoccurred throughout the play: the actors reused the same box with repetitive hand motions, and this was underlined by beeping sounds keeping time, but somehow this didn't achieve a wholly successful image of repetition and monotony.
Overall, I thought the set design and light could have used a bit more detail when it came to the kitchen and warehouse; the kitchen seemed bleak but not bleak enough to seem intentional, and the neon lights were a nice touch but drowned out by the additional stage lighting. More successful were simple solutions such as Johnny King's warm, orange wash of light when Tamsin and Luke were outside at sunset, or Ruari Paterson-Acherbach atmospheric background music that intensified Dean's moments of panic.
While the portrayal of working-class stories and mentally ill people can be tricky to pull off without ending up in weird accents or stereotypical tropes, the performers managed to be smooth and honest. I especially appreciated the intensity in Lucas Marsden-Smedley's Dean when he has his silently catastrophic moments to himself and the playful intimacy between Hannah Shury Smith (Luke) and Billie Collins (Tamsin). In fact, despite a few awkward elements, this play is full of beautiful moments. That oscillation between pain and sudden beauty is what struck me the most both in the script and in the performances, and in the minute details of the staging. This is a play highlighting those magical interactions when the humanity shines through in places and conversations where everything is trying to eliminate tenderness and care. If you need something to remind you that that is possible, then you should go see Wish List.
Wish List is on at the Corpus Playroom until 16 June