Dido, Queen of Carthage preview
Don't let the stress of exams put you off seeing this complex and sensitive rendition of Marlowe's classic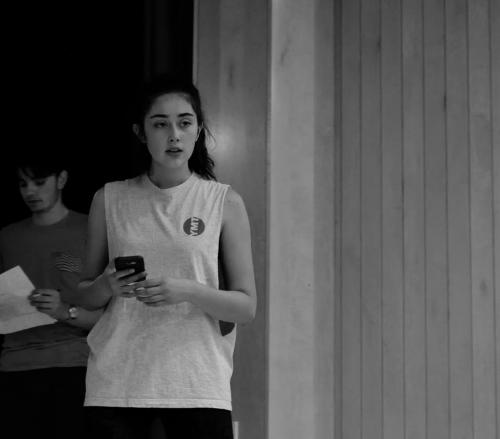 Entering to greet the wandering Aeneas, whom has just arrived at the shores of her city, Dido (Grace Glevey), the titular character in Dido, Queen of Carthage, glides onto the stage, embodying a sense of reserved regality despite the sparsity of her lines. Indeed, it a performance which is perhaps most notable for its tightness – set, as it is, amid a uniquely physical interpretation of Marlowe's play. Against the kinetic enthusiasm of Harry Burke's Aeneas, Glevey's Dido appears almost static; perfectly at ease in her role as host, ruler, and the audience to Aeneas' tale of the fall of Troy.
Trepanier has set herself an ambitious balancing act of being both true to Marlowe's play, and true to the complex character of Dido
In fact it is the complexity of this gendered dynamic – where a woman can be quiet, attentive, reactive, and at once a powerful queen – which in part got director Maddy Trepanier interested in the play. Dido, Queen of Carthage is commonly believed to be Christopher Marlowe's first written play, and part of a possible collaboration with Thomas Nashe. It retells parts of Books 1, 2 and 4 of Vigil's Aeneid focusing on the character of Dido, and whilst Dido herself plays a relatively small role in Aeneas' journey, it is, according to Trepanier, "for many people the episode that stands out".
It is also a notably topical episode in 2018, dealing as it does with the relationship between an African queen and a refugee in flight of conflict. And, whilst Trepanier is cautious of the idea that in order to resonate with an audience a play must tap into contemporary issues, she nevertheless recognises that a modern audience "can't help but see those parallels". Indeed, a play whose main focus is a woman of colour, whom operates politically as a man, yet remains strongly in touch with her femininity, seems more than a bit timely given the current state of discussions on race, class and gender. Yet Trepanier is quick to point out that, for it's seemingly progressive themes, Dido, Queen of Carthage remains an affluent white man's view of an African queen. Hence, in directing Dido for the Howard Theatre, Trepanier has set herself an ambitious balancing act of being both true to Marlowe's play, and true to the complex character of Dido within the Aeneid.
This happens to be a production notably tailored to its venue, Downing's Howard Theatre – one of the more adaptable venues within Cambridge. Talking of the stage's size, Trepanier notes how she felt it had a "gravitas we liked about it", at which point Assistant Director Julia Leino chips in, telling of the venue's suitability to "express epic emotions without restriction". Yet for all the emotiveness expressed throughout the play, it is in the physical interactions between the characters that the expansiveness of the Howard Theatre really shines through – despite the fact that rehearsals are taking place in a rather less expansive room in Trinity College.
In recounting to Dido his role in the fall of Troy, Burke's Aeneas practically pings around the stage, manoeuvring his fellow survivors into a multiplicity of positions, in order to relate every significant incident in Troy's final days. There is an awareness here of both the depth and width of the stage, with Trepanier making apt use of all the available space, up to her careful positioning of Dido in centre back, where she responds to Aeneas' tale with fluid and convincing expressions.
Yet it is perhaps through Kay Benson's sassy, dynamic Venus that this awareness of space is most evident, with the character commanding the audience's attention whenever she appears on stage. This is a role which epitomises the play's central thematic conflict between femininity and power, with Benson embodying from one scene to the next the scheming, possibly even malevolent God; the self-assured embodiment of love; and the cooing mother to Archie Williams' endearingly funny Cupid.
Given all this, the upcoming production of Dido, Queen of Carthage looks set to be an enormously entertaining evening. Yet falling as it does towards the end of exam term, I do wonder whether it may, despite its obvious merits, struggle to attract an audience. So I pose the question to Leino and Trepanier: why should anyone come to see their production in the midst of exams? Especially when the prospect of relaxing to a film in modern English, or perhaps in the pub, may seem more appealing. After reeling off the aforementioned points as to the play's historical and political importance, a thought occurs to Trepanier. A thought which is reflected in the palpable enthusiasm of the cast: "If you need to stave off some exam stress this is the place to do it."
Dido, Queen of Carthage is on at the Howard Theatre (Downing College) until 9 June