Parliament Square preview: 'original, powerful, and enormously relevant'
This inventive piece of political theatre receives its first amateur performance in Cambridge's Corpus Playroom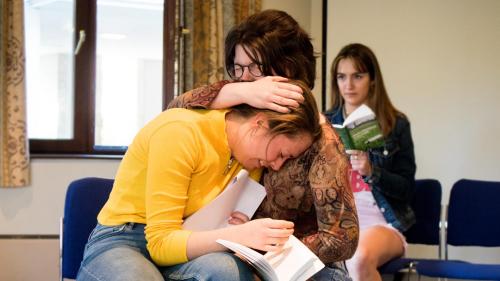 What is the power of protest? Is it a productive use of our time, or is it just an act of social theatre we perform to make ourselves feel virtuous, as if we're making a difference in this world in which we seem to see no end to injustice at all levels? Such a question is entirely relevant to the politically conscious mass of Cambridge students, many of whom were eager to pick up their banners and draw their picket lines in support of the recent University and College Union (UCU) strike. Yet, unlike the sheltered and peaceful world of Cambridge demonstrations, acts of remonstration elsewhere around the world can and have descended into violence, or even terrorism, by those who think that extreme acts are justified by their commitment to a cause. Are they right? What can one individual really do to effect lasting change?
The play is structurally inventive as well as having strikingly original themes
These are urgent questions confronted by James Fritz's searingly powerful play Parliament Square, winner of the Judges' Award in the 2015 Bruntwood Prize for Playwriting. "This is a play about advocacy and responsibility," says Director Kim Alexander, whose production in Corpus Playroom next week will be the first amateur performance of the play. "It's whether we should prioritise private or public responsibility – your own life, or the 'greater good.'" The play revolves around a single deed carried out by Kat, a young mother who gets up one morning and goes to Parliament Square to attempt an act of colossal self-sacrifice, which she hopes will right the countless wrongs of the world. Her act has a definitive impact; if not on the world, at least on the lives of those around her, in ways that will turn out to be extremely unpredictable.
The themes are heavy, and this is evident in the rehearsal. "This act genuinely makes me feel ill," says Becky Shepherdson, playing Kat, as she prepares to rehearse her scene. The air sizzles with tension and emotion. Multi-roling ensemble member Archie Williams, however, convinces me that Parliament Square is not just "unremittingly grim"; in fact, some bits are "fantastically funny". "The play constantly reminds us that we live in a world in which good things are so overwhelmed by the negative," he says. "It's been tough to make rehearsals fun when they're so draining, but we've managed!"
The play is structurally inventive as well as having strikingly original themes. While the first act is spun out into a single pivotal hour, the second is broken up into shorter, fragmented scenes covering a few months, while the final act condenses more than 15 years into a series of impressionistic flashes. Indeed, Shepherdson deems the first act as "singlehandedly the most abstract thing I have encountered in Cambridge theatre" – a bold claim, but from what I've seen, probably justified. "I think it needs to be put on," says Alexander. "It's the right time to put it on. It's genuinely thought-provoking, and I hope we do it justice."
Original, powerful, and enormously relevant, Parliament Square looks to be an intense experience for both the actors and the audience and, if it fulfils its potential, should certainly set the Corpus stage alight.
Parliament Square is on at the Corpus Playroom 15-19 May