The Arm in the Cat Flap review: 'stand-out cast and writer'
New writing from student Noah Geelan swings the audience between hilarity and humanity with a superbly written script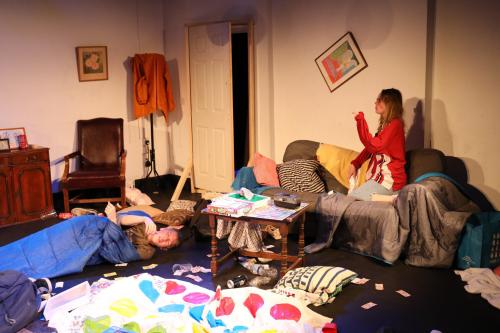 Emerging from Corpus after The Arm in the Cat Flap, my friend turned to me and said "I am not entirely sure what happened but I loved it." Noah Geelan's new farce is certainly bizarre and utterly hilarious. It swings beautifully from the sublimely ridiculous to moments of genuine sweetness and compassion, never labouring a joke for longer than is needed.
The play follows a bunch of students in a cottage in Suffolk over the course of an incredibly odd weekend. To give anything away would be to spoil some of the best moments of the show – Geelan's reveals and miscommunications are delightful. Escapades include the never-to-be-discussed shower incident, a wildly entertaining scrap over monopoly and musings over the whereabouts of Jackson Buckley. All in all, it is rather surreal.
An evening of sheer – if ever so slightly bemusing – joy which I certainly needed
Geelan is an abundantly talented writer. He has an innate skill in finding the right balance of the bizarre without ever tipping it over the edge. Never slowing comedically, The Arm in the Cat Flap takes the audience on a rollercoaster of weird. It is hard to find a particular highlight or favourite joke because they kept coming thick and fast, interspersed with flashes of humanity. His characters rarely fell into the trap farce often creates of remaining two-dimensional. The audience is never laughing at their expense, even when they are being moronic, as they are all likeable, disgusting, charming, annoying, and relatable in equal measure. It really was incredibly well written.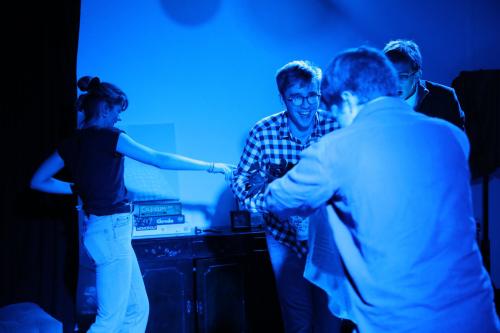 The excellent script was backed up by a stellar cast who were clearly having a whale of a time. It is hard to pick stand-outs but particular credit must go to Dan Allum-Gruselle as Jackson Buckley who managed to live up to the extraordinary hype the script had given him. His delightfully weird performance lifted the show where it could have begun to flag with a less talented performer. Alex Franklin's idiosyncratic Rick and Tom Nunan's adorable Colin were also to be commended but the entire cast was fantastic all round.
My only real qualm was that occasionally some scene transitions dragged and felt a tiny bit self-indulgent with the cast throwing all sorts of debris across the stage. They perhaps could have benefitted from the occasional set piece as opposed to the visual overload the audience occasionally experienced. There was also the odd moment that fell flatter than it should have but this could easily be chalked down to first night jitters.
Opening performance nerves aside, this was an evening of sheer – if ever so slightly bemusing – joy which I certainly needed in the already overwhelming slog of exam term. With its stand-out cast and writer, The Arm in the Cat Flap cannot be recommended enough.
The Arm in the Cat Flap is on at the Corpus Playroom until Saturday 28th April