Inbetween Cambridge and fame: Joe Thomas and Simon Bird
The stars of The Inbetweeners kickstarted their comedy careers at Cambridge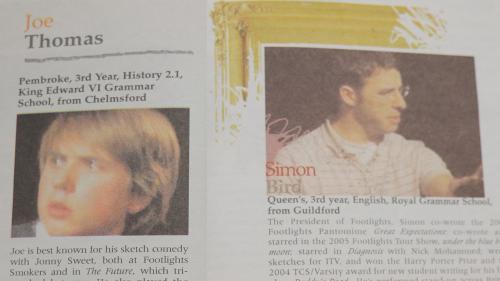 Before appearing on screens in what is, sadly, a frighteningly accurate portrayal of most of our high school experiences, Joe Thomas and Simon Bird were both undergrads at Cambridge in the early 2000s. Stars of The Inbetweeners, it seems that their comedy careers began a few years before the success of the show with the pair meeting at the Footlights.
Unsurprisingly, the Varsity papers from 2004-2006 are littered with mentions of both Thomas and Bird and they appear to be favourites of several reviewers. In a two-star scathing review of a Footlights production in early 2004, the reviewer deemed the show "by in large, not funny" and goes on to criticise a distinct lack of innovation. However, in such a negative description the reviewer's high praise of Thomas and Bird stands out with the former said to have given "a tireless and valiant performance" and the latter described as "quite outstanding in a variety of roles".
It is clear that both Simon Bird and Joe Thomas owe a certain amount of their comedy career to when they were treading the boards at the ADC
In the same year, both were charged with writing the famous Footlights pantomime which was, by all accounts, a barn-storming success, being described as a "heart-warming and pant-wetting selection of high-quality absurdity, satire and slapstick". Writing appears to have been the duo's forte with both commended in various Varsity articles for their creative capacity. Bird is credited with writing "the award-winning Daddy's Dead" and co-writing Beyond a Joke with fellow Footlight Nick Mohammed (also now an accomplished television actor).
Flicking through Varsity newspapers from 2005, it is clear that Bird's and Thomas' success at the ADC brought them University-wide fame. In a three-page spread sponsored by Mercer Management Consulting, Varsity outlined the professional equivalent of Cambridge's most eligible bachelors and bacheloresses, and both Bird and Thomas feature. The "Hall of Fame" shows Bird and lists his theatrical attributes throughout his time in Cambridge. As the brief summary notes, Bird was in fact President of Footlights in his final year and Thomas, who is pictured on the following page, took on the role of Secretary. Again, the paper provides a rundown of his successes, commending his creativity and describing him as "an absurdist comedian who may prove too clever for the Edinburgh audience he will face".  
Reading the descriptions in Varsity of some of the comedy duo's shows, there are certainly similarities between the sketches they produced for the Footlights and scenes from The Inbetweeners. Going on to star in one of the most popular series on television, it is clear that both Simon Bird and Joe Thomas owe a certain amount of their comedy career to when they were treading the boards at the ADC.