Historia de una escalera review: 'bravely stark and fluid'
Historia de una escalera is a touching and remarkably ambitious attempt to make foreign drama an important element of the Cambridge theatre scene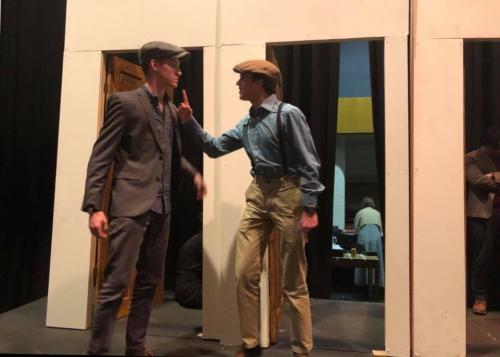 The Cambridge University Spanish Theatre Society's performance of Historia de una escalera is a bravely stark and fluid production. Taking on Antonio Buero Vallejo's script was a difficult challenge, as co-Director Romy Welch admits: "it can be hard to connect with writing from a very diffierent time and place, especially one that often seems to 'machista'".First performed in the Teatro Español in Madrid 1949, Historia de una escalera marks a watershed moment for post-war Spanish social drama in being "haunted by the bitterness of the past". Think Angry Young Men with an added dollop of classical tragedy.
The play, set on a stairway in a shabby apartment block, follows four families for three generations, tracing the brutality of political and economic hardship suffered by ordinary Spaniards before, during and after the Civil War. Throughout, Vallejo tragically intertwines economic with erotic frustration: weary, disillusioned, uneducated and violently angry, his characters experience the gradual extinguishment of hope.
Having said that, the play's tone was remarkably mercurial, shifting from overtly political to depressive to touching to satirically comic. This was beautifully achieved by a very sizeable and very competent cast, all of whom showed remarkable fluency and careful intonation of the original Spanish. Overall, I thought physical movement and choreography – crucial in a show with so many entrances and exits – could have been more developed. Nonetheless, the play's central male figures were excellently contrasting and engaging. While the suave idealist Fernando played by Octave Masson dreams of becoming an engineer and published poet, the practical socialist Urbano played by Ben Owen realistically knows his devotion to the worker's union will get him nowhere but cannot find anything else to work towards. Special mention also goes to the passionate rendition of the wealthy but unloved Elvira by Harriet Philips and Carlotta Wright's delicate portrayal of the beautiful and self-contained Carmina. Vallejo's realistic reworking of the set character types of 19th century Spanish melodrama could at times be as funny as they were illustrating serious social critique. Gabriela Doria and Veronic Welch Soto both excelled as the two archetypal gossiping viejas – injecting a lot of energy into the performance with their fantastic caricatures.
Despite Historia de una escalera indulging in men as frustrated intellectuals and women as emotional sufferers, I was delighted that the co-Directors Aimee Lister and Romy Welch have done a remarkable job of highlighting an underlying plea for gender equality that was organically within the text itself. Vallejo's moral seems to be that women and men must establish loving relationships of mutual respect and productivity in order for happiness and economic prosperity to flourish. By choosing to make the female parts intelligent rather than exaggeratedly sentimental, Lister and Welch have succeeded in a nuanced and appropriately jarring portrayal of the crushing rigidity of mid-20th century gender norms.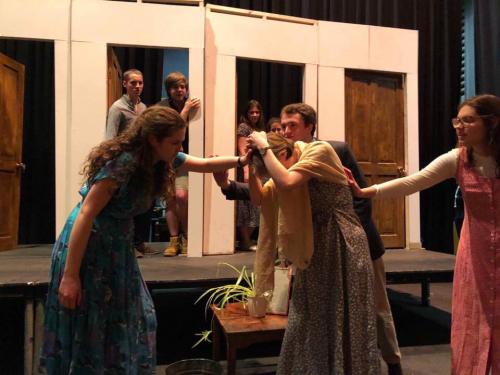 Lister and Welch were no doubt aiming towards a bleak and decrepit aesthetic that would offer a powerful visual portrayal of the barrenness of Vallejo's social view. I felt that the lighting – an unchanging stark white wash throughout the play – was appropriately 'dead' but could have been experimented with to allow for moments of lyricism or to emphasise certain spaces onstage. The production's sound was effective but very basic: Andre Segovia on the guitar and other forms of traditional Spanish music played when the house lights were up, and each act was demarcated by a fan-fare and radio announcement. The set design was very good, with four identical doors raised on a platform, although perhaps more use could have been made of the stairs. I was particularly impressed by the show's economy of props: they were few but extremely effective, including arid and wilting potted plants and a worn out rickety old wooden book-shelf that mirrors the social and emotional states of the residents themselves.
Overall, Historia de una escalera was touching and remarkably ambitious in its scale, fully deserving of three and half stars. Along with two other plays performed in Cambridge this term - Rêver Peut-Être by Jean-Claude Grumberg (French) and Morte Accidentale di Un Anarchico by Dario Fo (Italian) – it forms the Cambridge International Theatre Festival's triple bill which aims at the celebration of "non-English theatre and genres". Hopefully, this performance will mark a tiny but much-needed watershed moment in Cambridge theatre to make foreign drama an important element of diversity.
Historia de una escalera is on at the Fitzpatrick Hall, 6-7 March