The play that made me: The Dead
Niamh Curran tells us about how seeing James Joyce adapted to the stage changed her understanding of what theatre is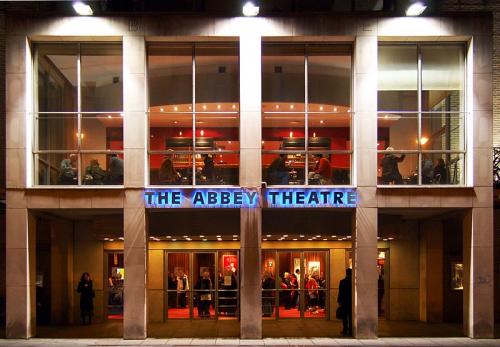 When the lights went down, I was prepared for the usual fare. It would be the same kind of play my parents always brought me to: Irish, with some Republican messaging, and inevitably boring. My parents often took me on day trips to Dublin because they wanted to see a show, but it was always the city I was more interested in. This time it was James Joyce's The Dead, but all I knew about James Joyce was that the book shelf in my parent's house bent in the middle from all the Joyce biographies.
The play was staged in Dublin's Abbey Theatre, a building with a history longer than that of that the Republic of Ireland. It has housed some of Ireland's most famous writers: Brian Friel, W.B. Yeats, Marina Carr, and of course Joyce, probably the most famous of them all. Being the naïve 16 year old that I was, I failed to appreciate any of the history.
Over the years, I have watched a lot of theatre, but when I was younger I didn't really appreciate the drama I saw. That's not to say I hated all theatre – I enjoyed many of the plays I saw, particularly those I wasn't supposed to see. When I was five, I ended up sat in the front row of a production of Hamlet where the dumb play involved blood being poured over the actors while they humped. My mother covered my eyes and laughed.
But, as the lights came up in the Abbey Theatre that day, I suddenly felt something different. I was struck by the beauty of staging: there was a line of chorus actors dressed in period costume that we could not yet see. Being lit from behind, they merged with the shadows they cast. I now know them to be the shades spoken of in the final speech of The Dead.
As the play went on, I only fell more in love with the production. It wasn't the stuffy plays with heavy-handed political messages that I had seen before: it was funny, in a clever and crass way; sweet, yet somehow sad. I could feel the fun of the party in front of us and wanted to join in the singing and dancing. The acting was brilliant, but I was more struck with the stunning visuals achieved by the staging. The pinnacle scene of the play stuck out in particular: as the tenor at the party began to sing 'the Lass of Aughrim' and Gretta becomes distracted by her memories of the song, a shadowed figure appeared at the back of the stage, singing along as snow fell upon him. As the audience, we got to relive the memory of Michael Furey and his painful demise.
I hadn't read any Joyce at the time, and therefore couldn't fully appreciate the significance behind the staging. But my parents did, and I felt a jealousy towards them that I had never experienced before. Looking back, it was this moment that sparked my real interest in Irish literature.
I wish I could say this happened at once: that I left the theatre and immediately bought a copy of Dubliners. But my love for Irish literature was more of an awakening of love, a gradual discovery, and one that I am still working on – I can't boast that I have read Finnegans Wake or Ulysses.
I now associate much of my 'Irish-ness' with Irish literature. You will find me drunkenly reciting an 'Irish Airman Foresees his Death', although I never can quite get the last four lines. I know the poems of Leontia Flynn and Sinead Morrisey, the plays of Brian Friel and Marie Jones, and last but not least, the works of Yeats and Beckett. While I certainly don't think all Irish literature is good (I still feel 'The Rose Tree' by Yeats begs to be mocked), I can thank The Dead for exposing me to a whole new world.
I also have this production to thank for changing the way I view theatre in general. I have been attending drama classes since three, but somehow, it had never occurred to me that you could use visuals to tell a story in a way that's reflective of its message. From that moment, I began playing around more with what I did on stage – from a somewhat disastrous GCSE drama production, to (later) more successful efforts.
Till this date, no other play has been able to top The Dead for me, and as long as I am performing I will try to emulate its power.
Is there a play you have a personal relationship with? We would love to hear from you at theatre@varsity.co.uk