The Twenty-Fifth Annual Putnam County Spelling Bee review: 'a crazy show'
This musical about the contestants in a spelling bee simultaneously amuses and perplexes our reviewer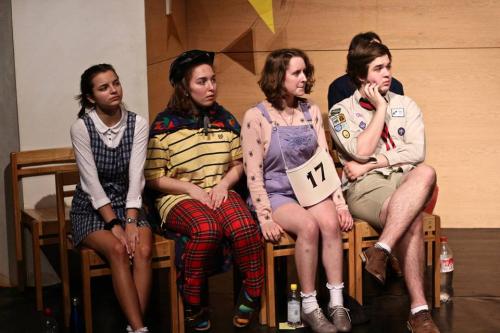 I wasn't quite sure what to expect from this year's Magdalene musical. I can't say I've ever been to a spelling bee. Then again, I can't say I've ever had a boy sing 'erection' at me at high volume while being pelted with packets of prawn cocktail crisps either, so I suppose there's a first time for everything.
Based on an original improvisational piece performed by New York comedy troupe 'The Farm', The Twenty-Fifth Annual Putnam County Spelling Bee explores the trials and tribulations of the lives of six eager spelling bee contestants, and the jumble of adults who spur them on to their success and failures. Bursting with sheer and total absurdity, this is a show that does not fail in its promise to be "hilarious, whacky and surreal".
The Spelling Bee opens as supervising teacher Rona Lisa Perretti (Mariam Abdel-Razek) relives her own past spelling bee successes. We are gradually introduced to a host of colourful characters, ranging from the slimy but ultimately lovable William Barfee (Basil Mustafa) to the comically unstable Vice Principal Douglas Panch (Helena Fox). A colourful and convincing set, complemented by well-considered costume design (Jamie Williams) draws us into the world of the Spelling Bee, which, at its very core, is simple good fun.
The cast is a competent one, and though accent slips provide some distraction, combined with occasional off timing and rushed deliveries masking the script's comedy, on the whole they do well to hold our attention as the events of the Spelling Bee unfold. A mention must go to Jamie Williams, who is consistently strong in the role of the tragic Olive Ostrovsky – her moving performance is easily one of the show's most polished. Olive's 'The I Love You Song' is a rare purely emotional moment of the production and one executed beautifully by Williams, to touching effect. The undoubted highlight of the show, however, is Rachel Tils as the comically endearing Leaf Coneybear. Bouncing between sincerity and sheer ridiculousness, and lending a surprisingly powerful voice to the clown of the Spelling Bee, Tils does well to capture Coneybear's insecurity and eventual triumph.
In a production that jumps about so wildly and with such vigour, the risk of running off the tracks into messy territory is a very present one. The Twenty-Fifth Annual Putnam County Spelling Bee demands a certain underlying sharpness – a method in the madness to tie its disparate components together.  Director Leo Béar should be commended for taking on such a challenge, especially in the restricted space of the Cripps Auditorium. While the team endeavours to keep the show on course, at times its improvisational origins become all too apparent. High energy is critical to the production, but it is often unbridled and manic, dropping off abruptly at the show's conclusion, and leaving us confused in a way that does not feel intended.
The Twenty-Fifth Annual Putnam County Spelling Bee is, simply put, a crazy show – one in which slightly sloppy moments are offset by those of laugh-out-loud comedy and a number of strong vocal performances.  A wild ride through the anxieties and disappointments of childhood, the trouble of pushy parents, the pressure to over-achieve and the value of self-acceptance, I think it can safely be said this is a show unlike any other you'll see in Cambridge this week, or indeed ever. You'll leave as I did - sides split and slightly bemused, but glad to have come.
The Twenty-Fifth Annual Putnam County Spelling Bee is on at the Cripps Auditorium, Magdalene College until 17 February