Comic Sans Men review: 'a race to the comedic top'
This improvised comedy with a cast of all-female and non-binary performers showcased remarkable talent, but some of the punchlines fell a little flat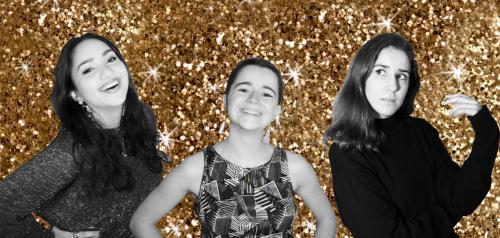 Comic Sans Men has a title witty enough to bring even those whose tastes don't naturally align with improvised comedy to the ADC Theatre, but could the show's all-female and non-binary line up of seven performers live up to that hype?  With Bella Hull as compère guiding them along through a series of deft monologues – designed to get the improvisational juices flowing – the performers negotiate both peaks and troughs of comedic quality with confidence, sharp punchlines and noticeably good acting.
The structure is simple enough: Hull asks the audience for a word (frankly it's not clear how much this dictates the monologue that follows), and then proceeds to tell a series of jokes based on a life experience, which the performers than use as inspiration for the spontaneously generated sketches. Hull tells us about her time in a youth orchestra ("I was a fucking big deal") and their tour to Cologne, and before we know it our seven performers scramble from their chairs in small groups to bring the tale to life, with their own creative direction thrown in. A minor gripe would be that we are not introduced to any of the line-up: their namelessness feels a disservice to both the performers and yours truly trying to write this review.
Is it funny, though? The show's improvised nature means each night will be different, but the first half on Tuesday certainly was. This show, at its best, can be likened to a blood sport between seven alpha female supremos. Each performer on stage wants the biggest punchline and is more than willing to stitch another up and embarrass them ("you're a really good singer, aren't you?") or force them into an impossible position in order to do so. It's a race to the comedic top, and this produces outstanding results because it is evidently a talented cast.
They can all act – that much is undeniable. While improvised, certain structure was given to the show by Directors Marie Moullet and Elise Hagen. For instance, the actors routinely changed accents (unfortunately to varying degrees of success), and numerous references were made to the show's previous skits and jokes. The latter produced invariably the biggest laughs of the night, and credit must be given to the Directors for instigating this. 
If the first half promised much, the second half I saw didn't keep its word. Though parts continue at the same standard, this segment was dominated by what must have been more than 30 dildo jokes. An audience member when prompted earlier had shouted the dreaded D-word eight times like her life depended on it. Even though Hull audibly dismissed it, that didn't stop the seven performers from dropping their standards in favour of some really tired, stale gags.  It seemed that where before a sketch would have been quickly abandoned if it lead nowhere, the new-found solution was simply to inject a reference to a sex toy and subsequently fish for the tired laughter that eventually materialised.
Furthermore, the team don't always function as a well-oiled machine. At times, certain performers seemed more reluctant or nervous to take part in the sketches, leading to some slightly awkward miscommunication on stage.  
Nevertheless, these flaws didn't seriously detract from an impressive display from the cast. Improvisational comedy in front of a packed ADC audience takes immense courage and skill and the cast lacked neither. Their jokes were nearly always successful and enjoyed by an enthusiastic crowd, and on the rare occasions when they were less so, the confidence of the performers meant the flow was fluently maintained. I would happily recommend you make your Valentine's Day that extra bit special by treating yourself to Comic Sans Men.
Comic Sans Men is on at the ADC Theatre until 17 February