Fences preview: "We are no longer afraid to speak of the problem in serious terms"
Siyang Wei sits down with with Saskia Ross to talk about their sophomore directorial effort and "carving out a space for black people to tell their own stories in the heart of the mainstream scene"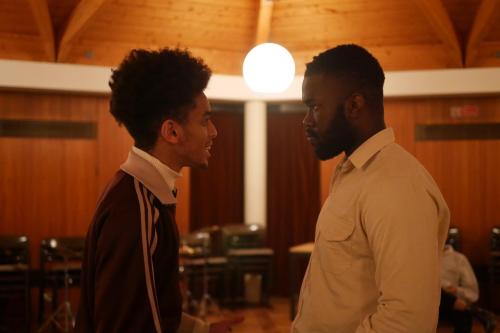 At Halloween's second-ever BME smoker, one question was posed time and again: to the average Cambridge theatre audience, what's the scariest thing imaginable? The answer, of course: "A stage full of BME people."
As tongue-in-cheek as this remark may be, it's a sentiment that strikes at the heart of a movement in Cambridge theatre that has been steadily gathering momentum for over a year. The unbearable whiteness of this university's theatre scene — and its relationship with professional theatre in Britain — has more recently received ample space in newspaper columns. We are no longer afraid to speak of the problem in serious terms.
"What we did with Macbeth was to say, look: here is an absolute Shakespearean classic, and we can do it too"
For director Saskia Ross, next week's production of August Wilson's Fences is a next step in beginning to solve it. "It's important that BME people are truly represented — not just in terms of how we look, but in what kinds of stories are told," Saskia explains.
This is their second directorial pursuit — the first being last Lent's production of Macbeth, starring an all-BME cast. "What we did with Macbeth was to say, look: here is an absolute Shakespearean classic, and we can do it too. It was hugely important in terms of encouraging BME engagement. But that's barely the start of making theatre better. It's not enough to just put BME faces on the Western canon."
Substantive change requires us to think more critically not only about who is onstage, but also whose narratives we value. "Fences is important because it's a story about a black family, told by black people, in which black lives are centred".
And it really is that simple: the play itself, one of Wilson's Century Cycle, is a tender depiction of the domestic dramas of an ordinary black family in 1950s Pittsburgh. It's also part of the reason why they chose Fences, following the widespread success of the film adaptation last year.
"I knew I had to adapt it for the Corpus stage because of the way it's set entirely in a backyard — it's a perfect venue. And it was particularly important for me because of August Wilson's insistence on a black director for the film, even though it's not in our contract. I need this story to be told by a black person, here, first."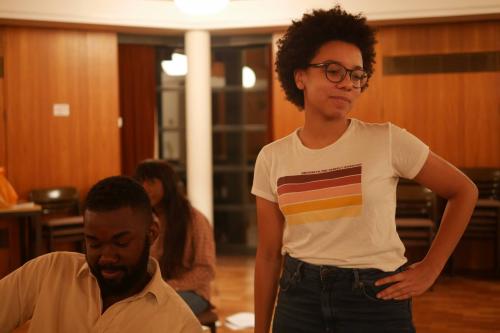 However, as Saskia explains, a radical project of this kind is never without its own particular hurdles. Although it is a Week 5 production, auditions had to happen after this year's Freshers' Fair in order to maximise the number of auditionees — leaving a more limited time than usual for rehearsal. "For Macbeth, after 40 auditionees we still had to have additional slots because only one black person had attended. If we'd done the auditions for Fences last Easter, we wouldn't have had anyone."
Unconventional tactics were thus required in order to target the demographics, including making audition flyers and flyering at the Freshers' Fair, posting on the BME Campaign Facebook page, and attending the BME Campaign's freshers' mingle in order to scout out people for roles.
"I was basically accosting black people in the street, telling them they had to come and audition; it was wild." And on the flip side of widening engagement is the difficult job of putting together a production in which almost everyone involved has never done it before.
It's a monumental effort, but Saskia says that the result is worth it. "I do think there's been a culture shift," they explain, and this is backed up by an increase in the number of shows that feature or are about BME people from basically zero to multiple in a single term. What they are afraid of, though, is the University's general tendency towards short-term memory.
"Macbeth was a bold and brash statement about race in Cambridge theatre, Fences is a quieter, more homely culmination of its promise"
"I would hate to find out in a few years that the state of Cambridge theatre is back to how it was like in my first year — with no black male actors and one black female actor aside from me, and nobody with a non-European accent onstage." It brings a certain amount of pressure onto the few BME people who are in the theatre, to keep doing things and making things in the hope that in ten years' time it won't have been forgotten.
For Saskia, the process of directing Fences itself has been meaningful. "I love black people. I love hanging out with black people, because black people are great." It's an absolute rarity in Cambridge theatre, and to a degree, this is what it's all about.
If Macbeth was a bold and brash statement about race in Cambridge theatre, Fences is a quieter, more homely culmination of its promise: carving out a space for black people to tell their own stories in the heart of the mainstream scene. It is not to be missed