Review: Baby Steps: A Sketch Show
After watcing Baby Steps: A Sketch Show, Clover Godsal asks, "What more could you want from a sketch show?"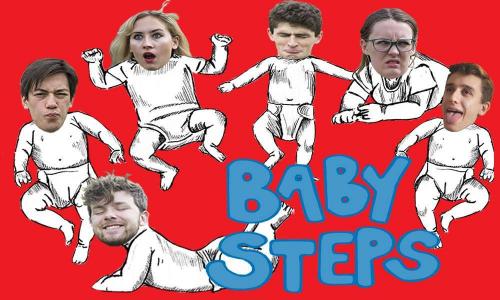 You can see why they decided to do a re-run of 'Baby Steps'; it is light-hearted, gloriously silly and really very funny. After a storming run at The Corpus Playroom last year, 'Baby Steps' is back again at Pembroke New Cellars this week with several new sketches and comedians.
"Light-hearted, gloriously silly and really very funny."
Baby Steps is a sketch show performed by Will Bicknell-Found, Tom Mayer, Alex Franklin, Aimee Moon, and Emmeline Downie. It is comprised of twenty-four fast-paced sketches loosely connected with the experience of being a newbie at university, and the faltering 'baby steps' we are all familiar with as Freshers try desperately to work out what on earth is going on. The show opens with a hysterical choreographed dance to a song about Freshers' Week, which brought back all the awkwardness, confusion and loneliness of starting at Cambridge; this time, however, I did not feel teary but instead was doubled up with laughter at the chorus of 'I ate pasta alone last night again'.
Some of the sketches were very short and simple and relied on one-liners, while others were much longer and more developed. Underlying them all, however, was a mischievous delight in the absurd; there was the boy who turns out to be a goat, the saboteurs who launched themselves on stage at inopportune moments and high-court judges who turn into 'street' dabbing skateboarders. A sketch about a 'Normal Human Being' follows the daily routine of a character who turns out to be an extra-terrestrial vampire who eats 'moles and voles' for breakfast, worships his neighbour's hedge and builds a life-size model of the Earth in his basement. This sketch used non-sequiturs and oxymorons very successfully; every time Alex Franklin's character paused, the audience would anticipate a reasonable way for this 'Normal Human Being' to complete his sentence, only to be continuously confronted with progressively more absurd scenarios.
"The ensemble musical sketches were the highlight of the show"
The musical numbers had the feel-good factor of a romping musical and an infectious energy. These little sketches were the absolute opposite of the sometimes slightly po-faced and serious attitude of the Cambridge 'thespy' scene and I challenge anyone not to giggle at the farcical, all-too-familiar sketches about goofy teenage dancing and the awkward conversations you wish you'd never had during Freshers' week. The closing sketch, which features a live Zumba class that turns psychotic, was probably my favourite.
I was particularly impressed by Will Bicknell-Found and the energy he brought to the stage. His range of high-pitched female accents was extraordinary, as was his ability to mime ludicrous scenarios such as when his character rips out his wife's intestines and kicks them like a football over the audience.
'Baby Steps' was a romping success: feel good and very silly. What more could you want from a sketch show?