Review: SiX
"Lucy Moss and Toby Marlow have crafted a masterpiece of a script" writes James Coe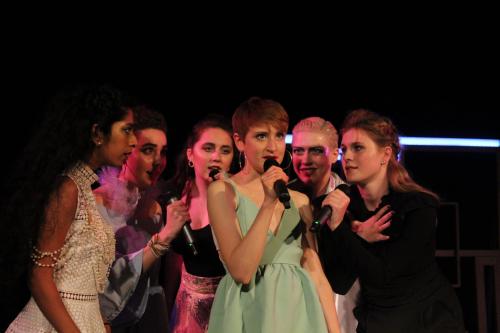 Divorced, beheaded, live! The six wives of Henry VIII are returned from their sell-out run at the Edinburgh Fringe Festival and ready to rock, and rock they most certainly do…
One of the most eagerly anticipated features of the ADC's Michaelmas season, SiX does not fail to take us on a sparkling all singing, all dancing tour of the troubled but sensational lives of the six former queens. As the musical progresses each wife competes to tell us why she should be crowned the most aggrieved and ultimately, most fabulous of the lot.
SiX provides a night of incredible musical and theatrical performances. The soulful stylings of Holly Musgrave and Shimali Da Silva as Jane Seymour and Catherine Parr are contrasted beautifully by Ashleigh Weir's sharp, cheeky Anne Boleyn. Weir, whose unique voice and comedic energy brings life to her role, never fails.
"Each element of production blends flawlessly in forming the show's glowing neon aesthetic"
Lucy Moss and Toby Marlow have crafted a masterpiece of a script. Clever quips and historical references are artfully woven throughout. There is an ample helping of sass and pop-culture references – enough to make us laugh uproariously without ever becoming cringe-worthy. Each of the eponymous six is given their rightful moment as queen, and in turn, an opportunity to shine as an individual character.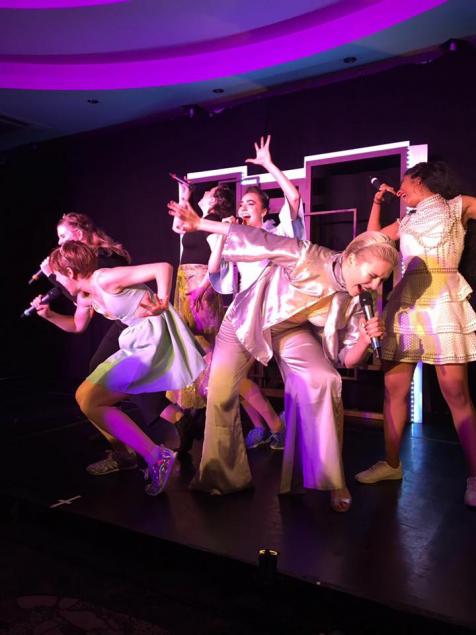 Each element of production blends flawlessly in forming the show's glowing neon aesthetic. Jack Parham's simple but elegantly lit set makes way for the vibrant performances delivered by each wife, while Anna of Cleves' striking silver look is alone testament to Agnes Cameron's skill as a costume designer.
The star of the show is undoubtedly the lyrical genius of Marlow and Moss and the accompanying music. Each number was unique and enjoyable, the style of song ranging from tear-jerking ballads and bouncy pop, to thumping house (or should I say haus?), that, under the musical direction of Joe Beighton, flow seamlessly together.
I woke to find all of them playing on loop in my head this morning and I'm still dancing uncontrollably at each opportunity to the mental beat. The release of an original cast recording, would, if possible, be hugely appreciated (seriously, I need that Catherine Howard solo back in my life).
"The harmonies that populate the show are undeniably sublime"
There is no doubt that each actress boasts different strengths in their execution, and while the depiction of every character was individually engaging, together they form the perfect sextet. Not every note is quite struck: there are a few patchy points as the six belt the conclusions of their rousing tales, and flatter moments very occasionally obscure Marlow's lyrics.
But the harmonies that populate the show are undeniably sublime. The promise of high-energy choreography does not disappoint and while the opening of the show is very slightly asynchronous, the movement gains in energy throughout.
My only true disappointment lies with myself for not having had the foresight to buy another ticket for this weekend. Good luck to you in finding yours