Varsity's Guide to the Fringe
Feeling a bit glum without your ADC fix? Feeling lost Sian Bradshaw presents Varsity's guide to Cambridge theatre at this year's Edinburgh Festival Fringe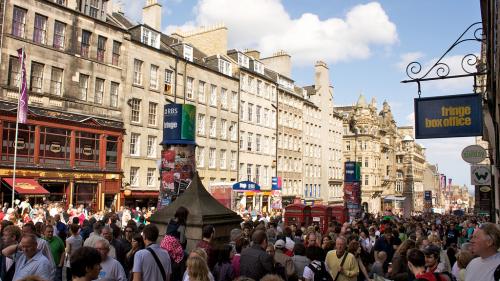 Away from the cobbles and the sage old walls of Cambridge, many of you may be experiencing (and lamenting) a severe deficiency of the thespian persuasion. But fear not! Edinburgh Festival Fringe is in full swing, which means that once again, ADC regulars are colonising a sizeable portion of the stages for your enjoyment. Without further ado, here are our highlights:
SCENE, The Studio, Paradise in Augustines, 4:45pm on 14th August-27th August
Billed as "the best, most purposeful exploration of queer characters that I've ever seen" (FLY) and encompassing some of the most "honest and raw" writing that Cambridge theatre has to offer, SCENE is one not to miss.
Combining comedy, with hard hitting social commentary, SCENE is a heartfelt, engaging, and at times, laugh-out-loud hilarious portrayal of two women in love rarely seen on stage.
Wife, The Stand Comedy Club, 12:20pm on the 23rd-27th August
After its much-praised run at the ADC, the Bunker Theatre and Theatre 503 in London, Wife is returning to the place of its very inception.
"It was at a flat party at Edinburgh Fringe last year that Ella Duffy approached me about directing her in a one-woman show, so it feels a bit bizarre being back exactly a year later with the very show that we set out to make!" Director, Robbie Taylor-Hunt tells me that although the play may be a one-woman show, the audience will be presented with a myriad of 20 different historical and mythological wives throughout the hour, from Eleanor Roosevelt to Mrs Quasimodo, "exploring obscured women's voices and how they're masked by their men, as well as certain archetypes of womanhood."
Hot Gay Time Machine, Daisy, Underbelly, 11:10pm on the 7th-28th August
Riotous, camp and exhilarating, Hot Gay Time Machine will take you on a journey of outrageous dances, hilarious comedy, and modestly advertised "mind-blowing songs that will BLOW your MINDS." But the bravado is all justified - the show was hailed as a "glittering gem" in the midst of its Cambridge run.
Join musical duo Zak and Toby for an honest and witty celebration of LGBTQ+ culture and difference – you won't regret it.
Four Go Off On One! A Jolly Romp Through Childhood, The Wine Bar, Gilded Balloon @ Teviot, 4:30pm on the 2nd-27th August 2017
Ahead of its Edinburgh run, this show has not been one short of controversy after the publishing company Hachette got in touch with the group of students, citing trademark infringement of Enid Blyton's The Famous Five series.
But don't let this put you off – this surrealist parody of all children's literature has been awarded the sought after 'Highly Recommended' rating by FringeReview in 2016 (also – 'tremendously funny' [ScotsGay] as well as the illustrious 5 star Varsity review.
The Cambridge Footlights International Tour Show 2017: Dream Sequence, Pleasance Ace Dome, 4:00pm on the 2nd-28th August
The Cambridge Footlights International Tour Show is invariably, the biggest show of the year. Join "the most renowned sketch troupe of them all" (The Independent) on the Edinburgh stop of its World tour.
Don't miss your chance to see the latest on offer from the group that launched many of the greatest names in comedy, including Stephen Fry, Emma Thompson, Mel Giedroyc, John Cleese, Miriam Margolyes, Hugh Laurie, Mitchell and Webb, Richard Ayoade, Olivia Colman, John Oliver, and Sue Perkins.
e x i l e, SpaceTriplex: Big, 9:30am on the 14th-26th August
e x i l e follows the interactions of six female characters desperately searching for water, and through their desperation they are forced to unearth their stories of persecution. As they piece their separate lives together, they begin to see the connection between their stories, building a kind of sisterhood relationship to offer a message of hope.
Written and co-directed by Rute Costa with Faye Guy, it feels like a production with huge potential to illustrate a new feminist angle on the history of exile. Granted, this one might not one for night owls with its 9:30am start time, but it's definitely one to get out of bed for