Review: Oleanna
A "slick" execution of this "controversial piece" writes Laura Pujos, of Mamet's "A-Level classic", performed at the Corpus Playroom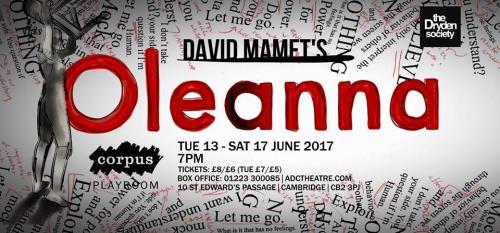 Oleanna is a challenging play, and Anna Moody's production of Mamet's A-Level classic succeeds in making the audience question their responses to the actions of the characters: student Carol (Shimali De Silva) and her professor John (Harry Redding). The challenge lies in the fact that the drama seems to be, as Carol proclaims, "not interested in feelings or motivations, but actions". We are not given much to go on regarding Carol's backstory with her professor, and only snapshots of his life outside the claustrophobic office space - in the form of phone calls with his wife, limited to his side of the conversation. The spotlight on John during these episodes thrusts Carol into a relative darkness, reflective of the obscurity of her motivations, while the bits of context given for John's invite a more immediate sympathetic engagement with him than Carol. Redding's John is also without condescension, played instead confused and flustered, which makes John's actions at the play's climax more of a shock, perhaps slightly jarringly, rather than a culmination of subtler aggressions underlying the dialogue.
The play's fraught tension is generated only gradually, but gathers a good pace by the end
In one sense, Oleanna is about failed communication: John and Carol's power battle is enacted mainly on a verbal plane, but Moody's direction gives due attention to physical detail, too. Redding and De Silva are often far apart, and hardly look at each when they speak, highlighting their characters' tendencies to ignore each other and drive their own agendas. Mamet's pacy dialogue is littered with over-talking and stuttered interruptions, a pace which isn't quite developed to its possible height in this production. As a result the play's fraught tension is generated only gradually, but gathers a good pace by the end, built particularly effectively through the use of flashing lighting and the increasingly fast ticking of the clock during scene changes.
The actors show physical skill, however, in having found their characters' gestural idiosyncrasies: Redding could be your typical Cambridge supervisor (the choice to play him with an English accent highlights our familiarity with this figure) and De Silva's Carol shows fidgety discomfort. However, this movement perhaps becomes a bit too much in the final Act: as Carol takes the upper hand, stillness could have been used to greater effect to provide a contrast. They slink around each other in a particularly commendable set, which perfectly captures the cushy supervision room given the professor's personal touch, blurring the professionalism of the academic office with a sense of the intimate, and manages to compress the Corpus Playroom even further by having the furniture brought in slightly from the walls and paintings hanging from the ceiling walling the room anew on two sides.
The paintings themselves are tinged with red hues and verge on erotic, and come to feel uncomfortable given the play's exploration of sexual harassment, objectification and the male gaze. This is one thread of the web of shifting perceptions and sympathies Oleanna knits around the characters. One moment Carol is being deprived of a voice, bulldozed by John who comically blunders about saying 'I'm sorry I interrupted you' while still over-talking and interrupting her, then finally finds the words to lecture him back, sometimes using his own words, and make the important and highly relevant feminist point "It's not for you [a powerful, older, white man] to say" what is and isn't sexually inappropriate, but then the next moment she claims that John's forceful physical contact with her, restraining her as she tries to leave, amounts to rape.
Here, though, Carol's genuine grievances with her professor and her institution's issues with privilege are undermined as she is portrayed as vicious and only able to gain power over John through hateful manipulation. De Silva's Carol comes into her own when relishing in her scorn for John, displaying an unsettling wild gleam in her eye. This is a problem in the script itself however, and any discomfort with the play's treatment of its themes is not the fault of the cast and crew, whose execution of the controversial piece is slick, with Redding shining in a particularly kind interpretation of John. Interestingly, this makes you leave the Playroom questioning even more the representations of the characters, and the power structures that prop some up at the expense of others