Angel Wings and Devil Horn(y)s
Devil horns at the ready! Jasmine Rees tells all about racy Week 8 comedy, Immaculate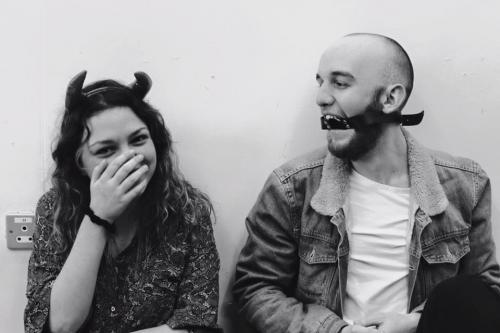 "I've had the most messed up week. Everything is totally going wrong, like my essays are all overdue and there's so much friend drama and oh yeah – I'm pregnant! And I have 3 men proposing that they're the father – can you believe? But they literally can't be because I haven't had sex for over 9 months – totally strange right!" …. What do you mean you don't relate?
Immaculate centres around Mia's predicament (or should I say, preDICKament) — who's the daddy? This dominatrix hasn't had the old rumpy pumpy for quite a while, over 9 months in fact, and naturally, isn't so sure how it's possible. Even more naturally, three men all believe that it was their skills of insemination and, in the peak of naturalism, they are her exes, the angel Gabriel and Lucifer. It reads almost like Romeo and Juliet, except a lot more sexy, a lot more funny and with a lot less death and Shakespearean actors.
Nothing is shied away from in this bitingly funny script, and speaking to director, Ania Magliano-Wright, they are embracing all the silliness and sexiness it has to offer. At this point in the term, we all just want to get a little bit bevved, or at least hydrated (alcohol is a choice kids) at the ADC and enjoy some really funny theatre that isn't trying to be anything it's not. Meeting with the cast and seeing some of the rehearsal process it was obvious how fun a process this has become and how excited they all are to see that translated onto the stage.
Without giving away any spoilers, the characters are larger than life caricatures revelling in comic brilliance but also becoming strangely human as the play progresses. Be prepared for ridiculousness being embraced in all aspects, from the Greek chorus, to the devil incarnate, to angel Gabriel and a large dildo. This all sounds wacky and brilliant and honest and this is what this play is about: not wanting to be serious when it can be silly and hilarious instead. And why buy just one dildo for a show when you can buy many?*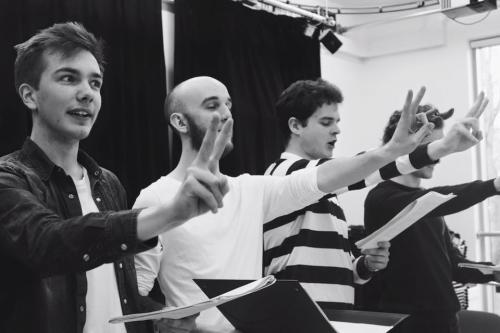 * Assuming the dildos are for the show. However, directing is a stressful process.
If all of that is not enticing you to buy a ticket, then maybe the fact that there's going to be a raffle with ticket owners to win a cheeky goodie bag will. I wasn't allowed to find out what's in said goodie bag, which is both enticing and terrifying, but I'm sure we can all take a few guesses.
Being tied up is no excuse for missing this lateshow, in fact, it's probably keeping in with the theme. If you have one last chance to laugh at the ADC this term, why not make it Immaculate?
Immaculate runs from Thursday 16th March – Saturday 18th March, 11pm at the ADC Theatre. Get your devil horns at the ready