Toblerone, Taken and trolling the Telegraph
ADC veteran Ken Cheng talks to Rhiannon Shaw about a comedian's life after Cambridge, and his new show, Best Dad Ever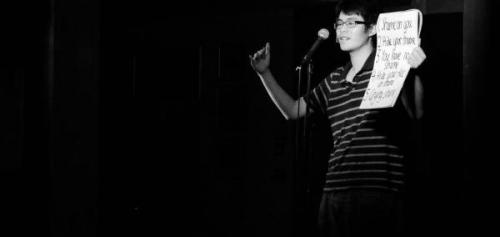 "I think Liam Neeson from Taken would be a good Dad, because of his determination to keep you safe. Although he also is the reason you're in danger in the first place, so swings and roundabouts."
Ken Cheng is back in town, after what feels like a long absence. Admittedly, it's only been a term, but Ken's been around forever. He corrects my estimation of eight years to twenty-seven – and, after a lengthy and quite awkward pause, I remember that he's lived in Cambridge his whole life. He's been doing comedy for six.
"Cambridge is comedy on tutorial mode where you have 100 times the health than normal."
If you're a regular at the ADC or Corpus Playroom, you'll certainly have seen Ken's unique brand of quick-paced and pinpoint perfect stand-up. If you haven't seen his 'Two Birds, One Stone' skit, in particular, you've been living under a rock…or a stone. But it was getting into the final of the BBC New Comedy Award in 2015 that saw Ken garner national attention, and ripped him from our comedic bosom. He's even got his own page on Wikipedia, and, through a combination of self-promotion and the sheer brilliance of his stand-up, made it big on that most reputable of sites, Reddit. Ken Cheng (he's a firsty-lasty kind of guy, like your crush at secondary school) is on the up. 
"I have a few avenues of building my rep. I'm working on a radio pitch for the Beeb. I'm considering how to get back onto Youtube. My main aim, though, is to be like Ken M and troll." The Telegraph comment section is a good place to see him in action, if you're interested.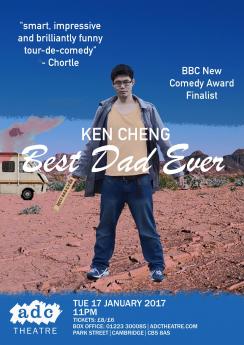 Ken's always been an enigma. He dropped out of Cambridge to play (and win) online poker, and has an internet alter-ego called Mark Liu. With a life as weird and wonderful as his, it's a surprise his stand-up hasn't taken a more personal turn before. He explains that Best Dad Ever (17th Jan, ADC Theatre) is new territory for him.
"It's much more personal and built around a single idea. My last show, Chinese Comedian, was mostly just a sequence of random observational material without one central theme. A lot of my other material can be quite abstract, just about phrases and whatnot, but this is largely about me." Though if anyone's too worried about missing out on his famous eye for detail, he says there will still be "a lot of phrase deconstruction in there."
I had to ask where the name had come from — a brief Google comes up a link for the Sunday Mirror's 'Britain's Best Dad' competition (sponsored by Debenhams). But apparently it's not about that.
"The name comes from a time I found a Toblerone packet with the words 'Best Dad Ever' on it. The significance of this will be revealed in the show itself, but it's mostly about my childhood and my Dad (and perhaps my own children?). Mysterious."
While I hope there won't be any of his offspring waiting in suspense in the audience, I'm intrigued to see this new side of Ken. I ask how London's treating him, and he's straight in there with the video game analogies. "London is very different, basically comedy on hard mode – or at least Cambridge is comedy on tutorial mode where you have 100 times the health than normal." But, as his growing CV attests to, he's doing well – even if he's left Cambridge Two Birds, One Stone-poorer in the process.
Coming off the back of Chinese Comedian (hysterical, believe me), this new show has a lot to live up to. But Ken doesn't seem too worried. He's more concerned about not having put 'Chinese' in the title of this one, because last year "hundreds of random Chinese people showed up" – a neat trick to remember if you're low on numbers at a birthday party. Perhaps this year's audience will be full of dads. Or people who think they're the best. 
One of the most talented comedians to come out of Cambridge in the last few years is coming home. You'd be a fool to miss it. 
Best Dad Ever is on at the ADC on 17th January, 11pm